Harnaaz Sandhu is the new Miss Universe 2021. Harnaaz, who represented India at the 70th Miss Universe, held in Eilat, Israel, brought home the coveted crown to India after 21 years. Kangana shared the winning moment of Harnaaz on her Instagram story and congratulated her on becoming Miss Universe 2021. She wrote, "What a delightful news. Congratulations @harnaazsandhu_03."
The Chandigarh-based model, who is currently pursuing her master's degree in public administration, was crowned by her predecessor Andrea Meze of Mexico, who won the pageant last year. Earlier, Priyanka Chopra, Sushmita Sen, Kareena Kapoor Khan and Lara Dutta also congratulated her.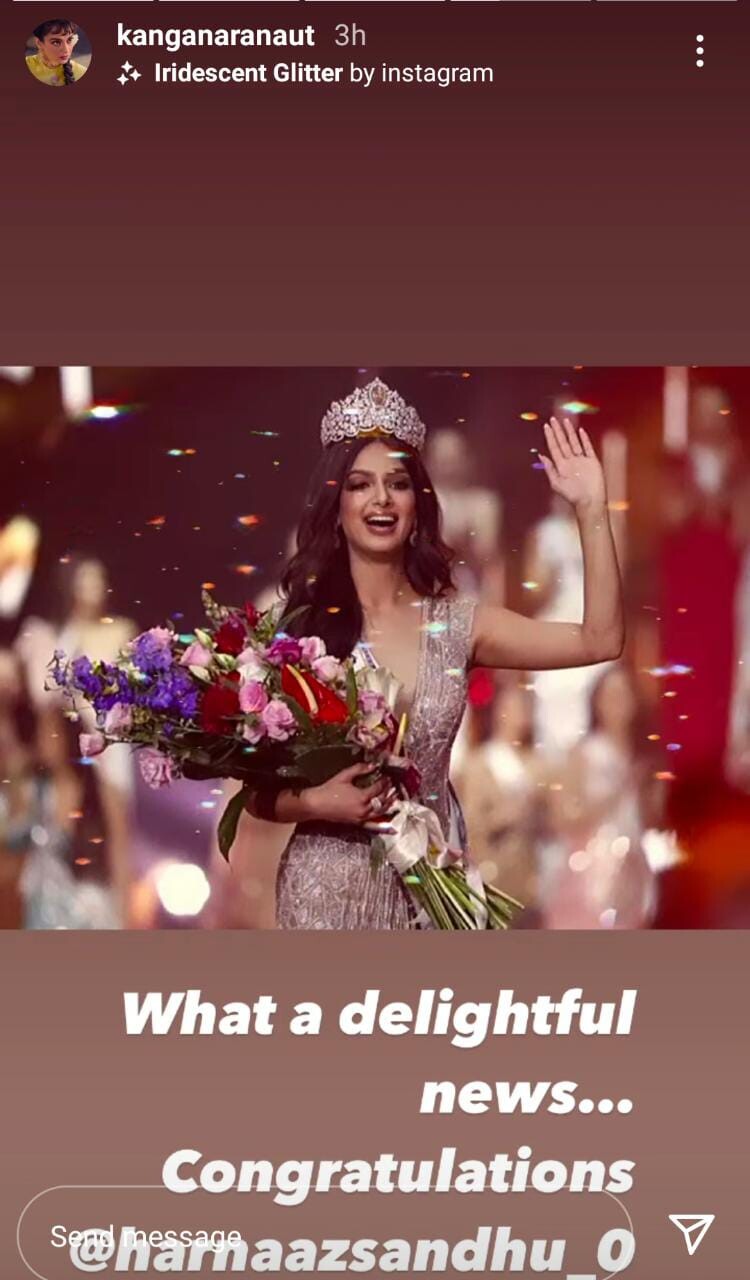 The official Instagram handle of Miss Universe shared a video of Harnaaz post her win and wrote in the caption, "WHO ARE YOU? #MISSUNIVERSE! @mouawad @harnaazsandhu_03."
During the final question and answer round, Harnaaz was asked what advice she would give to young women on how to deal with the pressures they face today.
She said, "The biggest pressure the youth of today is facing is to believe in themselves, to know that you are unique and that's what makes you beautiful. Stop comparing yourselves with others and let's talk about more important things that's happening worldwide. This is what you need to understand. Come out, speak for yourselves because you are the leader of your life, you are the voice of your own, I believed in myself and that's why I am standing here today."
Image Source:Instagram/KanganaRanaut/HarnaazKaurSandhu