Bollywood's queen Kangana Ranaut is known to express her herself on social media. She often makes some candid confessions and in her recent Instagram post, she spoke about her mother and revealed she taught her how to survive on salt and roti. She made this revelation while replying to a Twitter user who shared a photo of her mom working on a farm. The Tanu Weds Manu actress also shared that her mom, who is a former Sanskrit teacher in a government school, is not rich because of her.
Taking to her Instagram handle, she penned a note that reads, "Please note my mother is not rich because of me, I come from a family of politicians, bureaucrats, and businessmen. Mom has been a teacher for more than 25 years, film mafia must understand where my attitude comes from and why I can't do cheap stuff and dance in weddings like them." She added that her mom is a private person as she doesn't like to eat out, go abroad and even visit film sets. Ranaut went on to add "Bhikhari movie mafia who dance in weddings and do item songs for few coins will never know real character/ integrity is beyond material wealth… that's why I never respected them I will never respect them…"
ALSO READ: Kangana Ranaut Opens Up About Ajnala Police Station Attack; Say, 'Predicted Two Years Ago, Wahi Hua Jo Maine Kaha Tha'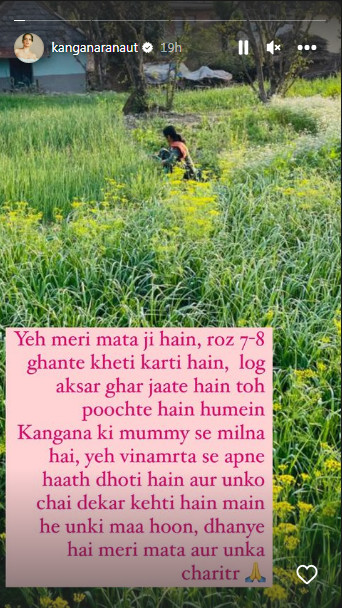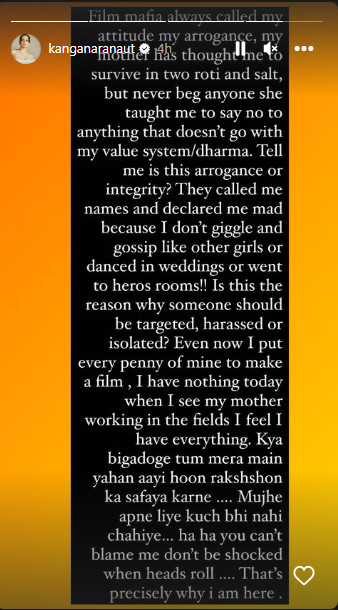 The 35-year-old actress further explained that the film mafia always called her attitude her arrogance. Her mom has taught her to survive in two roti and salt but never beg anyone. "Tell me is this arrogance or integrity? They called me names and declared me mad because I don't giggle and gossip like other girls or danced in weddings or went to heros rooms!! Is this the reason why someone should be targeted, harassed or isolated? Even now I put every penny of mine to make a film , I have nothing today when I see my mother working in the fields I feel I have everything. Kya bigadoge tum mera main yahan aayi hoon rakshshon ka safaya karne Mujhe apne liye kuch bhi nahi chahiye ha ha you can't blame me don't be shocked when heads roll .... That's precisely why I am here," she wrote in another post.

On the work front, Kangana has a slew of upcoming films such as Tejas, and Emergency in the lineup.