Kangana Ranaut Shares 'Class And Crass' Tweet To Tease Swara Bhasker, Says 'Thoda Toh Swara Ji Ko Chheda Jaaye'; Here's How The Latter Reacted
Kangana Ranaut took to her Twitter and shared a tweet that took a dig at Swara Bhasker, and compared her to Kangana. Swara replied to the tweet; check it out!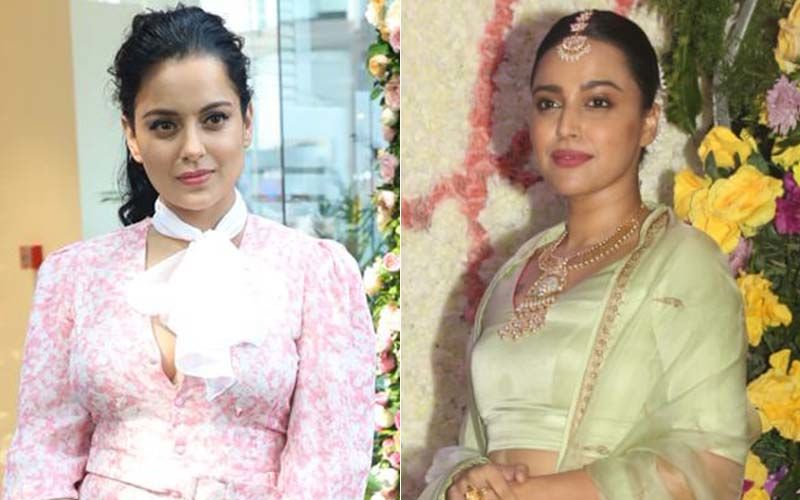 Kangana Ranaut is known for her controversial tweets, and often airs her views on celebrities and the Bollywood industry, through her tweets. She has been hitting the headlines for her unfiltered views and opinions, ever since she joined Twitter a few months ago. This time around, Kangana resorted to sharing a tweet by a social media user which compared Kangana and Swara, while calling Kangana 'class' and Swara 'crass'. Kangana wrote that she was getting bored, hence she resorted to teasing Kangana. Find out how Swara replied to it.
Kangana retweeted a social media user's post that showed Kangana and Swara wearing golden sarees with white blouses and accessorized their look with necklaces. It called Kangana 'class' while it referred to Swara as 'crass'. While sharing this, Kangana wrote, "Yeh sab kya keh rahe hain !! Aisa hai kya ?@ReallySwara (what are these people saying? Is it true?" When a follower of Kangana commented about grabbing popcorn and enjoying the Sunday entertainment, Kangana replied that it was a boring Sunday so she decided to tease Swara Bhasker a bit.
"Haan on a boring day thoda toh@ReallySwara ji ko cheda jaye," wrote Kangana. Swara Bhasker responded politely to this tweet by Kangana and wrote that she is always happy to help alleviate Kangana's boredom. "Always happy to help alleviate your boredom Kangana.. you know I love you," she tweeted along with a smiling emoji. Check out the tweets below:
A few months ago, in an interview, Kangana Ranaut had taken a dig at Swara Bhasker, and called her a 'B-Grade actress'. While speaking to Pinkvilla, Swara had laughed off Kangana's remarks and had said, "In my head, B stands for best. So I am like call me whatever you like. Sometimes what people say reflects more about their mentality than people that they are talking about. And I think that's what happened with the outsiders and the being B grade actors debate, it's really just sad. I think people were revealing their own mentality rather than saying anything about me, Taapsee (Pannu) or anyone."
Image Source: Spotboye image archives,
twitter/KanganaTeam/ReallySwara