Kangana Ranaut, on Sunday, took to her Instagram stories to inform fans that she has decided to sue a leading magazine for nominating her for 'Thalaivii'. Surprised right? The actress penned a note revealing that Filmfare Awards have invited her to their awards night as they wanted to award her for her performance in Thalaivii. But due to reasons unknown, Kangana stated that she is shocked to know that they are still nominating her. She called their invitation 'beneath her 'dignity and work ethics.'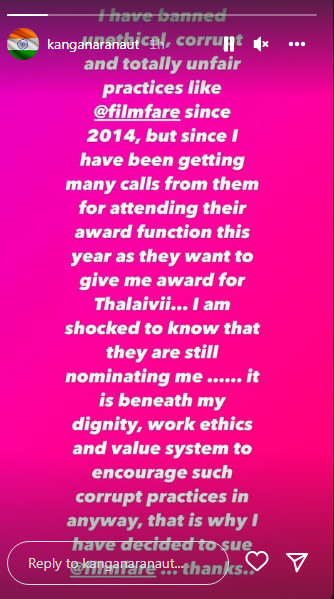 Her post has left everyone in splits. In fact, fans are scratching their heads, wondering about the reason behind the actress' cryptic post.

The 35-year-old actress is nominated in the Best Actress category for Thalaivii with Kiara Advani, Kriti Sanon, Parineeti Chopra, Taapsee Pannu, and Vidya Balan. Kangana had earlier announced her boycott of Oscars and Emmys as they did not pay in Memorium tributes to the late legendary singer Lata Mangeshkar.
The magazine is yet to respond to Kangana Ranaut's decision of suing them.