Karan Johar has been questioned about his sexuality countless times over his two-decade-long career as a filmmaker. He has finally come clean in the autobiography An Unsuitable Boy.
In excerpts published by a leading daily, he answers all the questions, from being abused on social media to his relationship with Shah Rukh Khan.
"Everybody knows what my sexual orientation is. I don't need to scream it out. If I need to spell it out, I won't only because I live in a country where I could possibly be jailed for saying this. The reason I don't say it out aloud is simply that I don't want to be dealing with the FIRs. I'm very sorry. I have a job, I have a commitment to my company, to my people who work for me; there are over a hundred people that I'm answerable to. I'm not going to sit in the courts because of ridiculous, completely bigoted individuals who have no education, no intelligence," writes Karan.
The filmmaker also opened up about the homophobia and the daily abuse he faces on social media. "I have become like the poster boy of homosexuality in this country. But honestly, I have no problem with people saying what they want about me. Twitter has the most abuse. I wake up to at least 200 hate posts saying, 'Get out, you're polluting our nation, you're dirtying society' or 'Shove [IPC Section] 377 up your arse.' I get this on a daily basis and I've learned to laugh it off. One man came up to me once very cockily at Heathrow airport and said, 'Is it true that you are a homo?' He was with his wife and child, and he asked me this. I looked at him and said, 'Why, are you interested?' And he said, 'Hey, what-what what!' And I said, 'Don't what-what me.' And I walked out."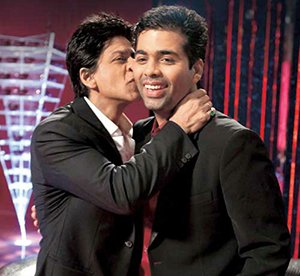 Image Source:pikbo

But what angers Karan the most are the questions about his relationship with SRK.

"For heaven's sake, for years there were rumours about Shah Rukh and me. And I was traumatized by it. I was on a show on a Hindi channel, and I was asked about Shah Rukh.'Yeh anokha rishta hai aap ka,' the interviewer said. He worded it in such a way that I got really angry. I said, 'If I asked you if you are sleeping with your brother, how will you feel?' So he said, 'What do you mean? How can you ask me this question?' I said, 'How could you ask me this question? For me, no matter what ups and downs Shah Rukh and I have been through, he is a father figure, an older brother to me. For me to look at him in that way or be subjected to those rumours was just ridiculous," wrote the filmmaker.
Thumbnail Image Source: Manav Manglani