Kareena Kapoor Khan Plays Cricket With Kapil Dev Looking Sexy-As-Hell In A Manish Malhotra Saree – Video
Who thought this day would come but it has and we are beaming from ear to ear seeing Kareena Kapoor Khan playing cricket with the legendary Kapil Dev, wearing a sexy-as-hell saree, nonetheless. That moment when she tucks in her saree and holds the bat, though! SIGH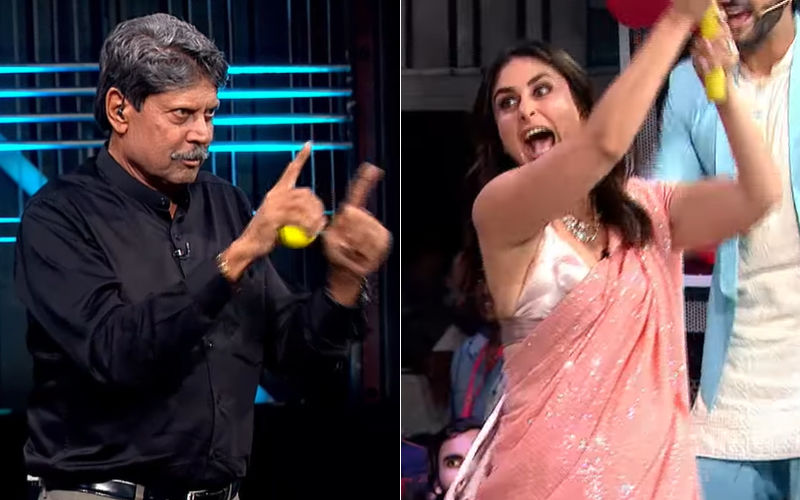 Who thought this day would come but it has and we are beaming from ear to ear seeing Kareena Kapoor Khan playing cricket with the legendary Kapil Dev, wearing a sexy-as-hell saree, nonetheless. That moment when she tucks in her saree and holds the bat, though! SIGH.
Kareena opts to bat first as Kapil Dev bowls and after a bad shot, she goes straight for the boundary. All this action took place of the sets of the show Dance India Dance, where Kareena Kapoor Khan is a celebrity judge. Watch the video below:
Kareena majorly fangirls over Kapil Dev and goes on to say that she wishes Taimur Ali Khan also take up cricket, just like him, when the time comes for him to choose his career path.
Kapil Dev graciously signs out an autograph for Taimur on a bat. He writes, "Taimur, Good Luck. Hope you play for INDIA one day."

While we don't know if little Taimur would be pursuing her mother's dream or not, we are sure he'll still look pretty adorable in the blue jersey and just in case you've doubts, here's a picture of the same below.
Kareena Kapoor Khan, Saif Ali Khan and their little munchkin Taimur have been in London for quite some time now. The actor parents are in the British capital for the shoots of their respective films. Every time the Pataudi family steps out for baby's day out, their fans make sure to click them and they put up the pictures on social media.


Image Source:- youtube/ zeetv, instagram/manishmalhotra05/ taimurlove