Karishma Sharma, Mahie Gill Almost Attacked In Mira Road: Hooligans Ransack Their Set With Rods And Sticks! What's Happening To Aamchi Mumbai?
In a shocking state of events, SpotboyE.com has learnt that actresses Mahie Gill and Karishma Sharma were attacked in Mira Road by a couple of hooligans, during the shoot of their web series. This happened at 4:30 pm, today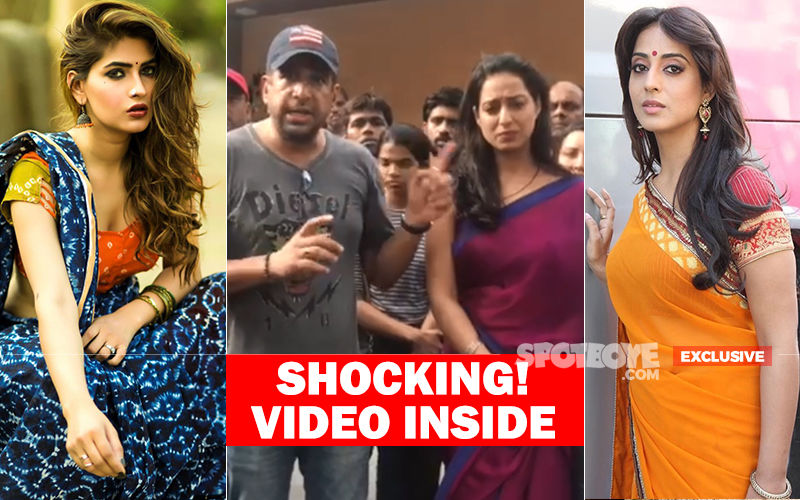 Kaal director Sohum Shah was shooting for a web series (Fixer) with producer Saket Sahni and his cast comprising of Karishma Sharma and Mahie Gill amongst many others. Suddenly 5-6 men barged into the set and ransacked it in no time. This happened at 4:30 pm, today. We are told that they were local goons from Mira Road, carrying sticks and rods. Mahie and Karishma were also about to be attacked. The cast and crew was visibly shaken up after the unpleasant and violent intrusion. When contacted, Sohum confirmed that anti-social elements had invaded his set. Saket told SpotboyE.com, "These guys came and told us that we had no permission, which was not the case. Before we could even object to a degree, they went on a rampage and broke a large section of the set. Glass pieces are lying across us. The ladies have been almost man-handled. Is this a city we are proud of?"
Asked if they were headed to the police to lodge a complaint, Saket shot back, "How many days you want me to waste in the court after complaining to the cops? Such incidences have become very common, and the very next day, the lumpen elements are out on bail resuming their nefarious activities with equal vigour."
When contacted, Mahie Gill said, "The worst part was that the police was standing nearby and did not come forward to help. My hairdresser ran to them, but they didn't even move. The vanity van's glasses were broken. Soham fell down when he was hit. Last but not the least, we had to our DOP, Santosh Sir to a hospital."
Did she get hurt? "I was saved in the nick of time. A guy came to attack me but I got into my car quickly."
And Karishma? "Thankfully, Karishma had run for cover and was safe in a corner." Is this city becoming a heaven for mawaalis?
Image Source:- Instagram/karishmasharma22/mahieg