Kartik Aaryan Says Losing His VOICE Cheering For Lionel Messi, Kylian Mbappe' At FIFA World Cup Final Was 'Worth It'; Calls It A Historic Win
Kartik Aaryan says losing his voice, cheering for legends Lionel Messi and Kylian Mbappe at FIFA World Cup Final was totally worth it!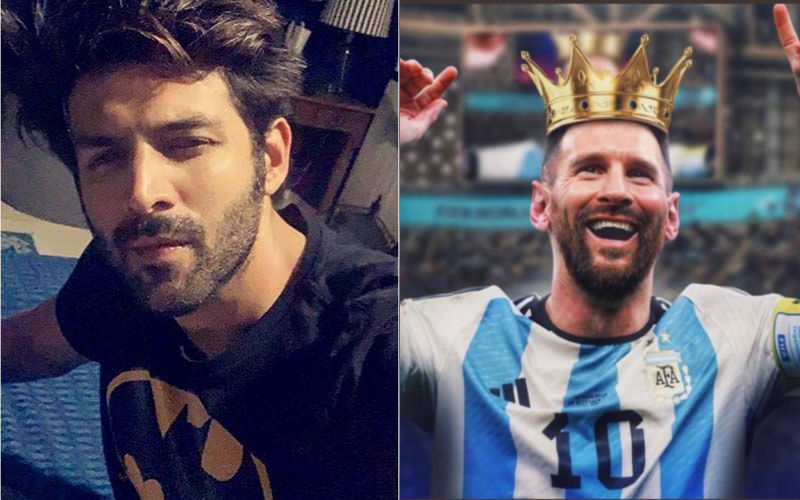 Bollywood actor Kartik Aaryan witnessed the final match between Argentina and France on the last day of the FIFA World Cup 2022 game and he could not have asked for more. The 'Bhool Bhulaiya' actor called it an overwhelming experience and stated he was going through a rollercoaster of emotions watching the match. Kartik also shared a series of photos and videos from the game on his Instagram handle, expressing his feeling about watching legends Messi and the rockstar of the game, Mbappe. The actor even mentioned that losing his voice while cheering for them was worth it.
The Freddy actor shared a photo of Messi, calling him 'Shehzada' with a caption, "It was the most overwhelming experience, to say the least. Watching a FIFA World Cup Final live is now ticked off my bucket list, and I am glad that I saw the best one. I was literally going through a rollercoaster of emotions at that match; I think everyone was. The happiness of seeing the Shehzada of Football, Messi, take his crown was no less than a film's grand climax! There is always so much to learn from such legends, and last night, he truly had a historic win."ALSO READ:
Kartik Aaryan Reacts To 'Replacement Star' Meme! The Freddy Actor Has An Hilarious Reply For All The Haters-READ BELOW
Kartik added, "I have lost my voice from all the cheering and hooting yesterday and Sameer (Vidwans) sir is surely not going to be happy once I am back on the set (Laughs). But I guess anyone would agree that it was worth losing my voice for Messi and also for the rockstar of the match, Mbappe."
Lionel Messi won the Golden Ball for the best player at this year's World Cup for leading Argentina against France. Kylian Mbappe was at second to Messi for that award. At FIFA World Cup 2022, Argentina's Emiliano Martinez won the Golden Glove award while his teammate Enzo Fernandez bagged the Best Young Player award.