Shaadisthan Actress Kirti Kulhari: 'Acting Is So Personal To Me; I Speak So Much More Through My Work Than My Conversations'-EXCLUSIVE VIDEO
Kirti Kulhari, who was last seen in Shaadisthan, talks about how her views on marriage have changed over the years, after being scrutinised over her separation from estranged husband.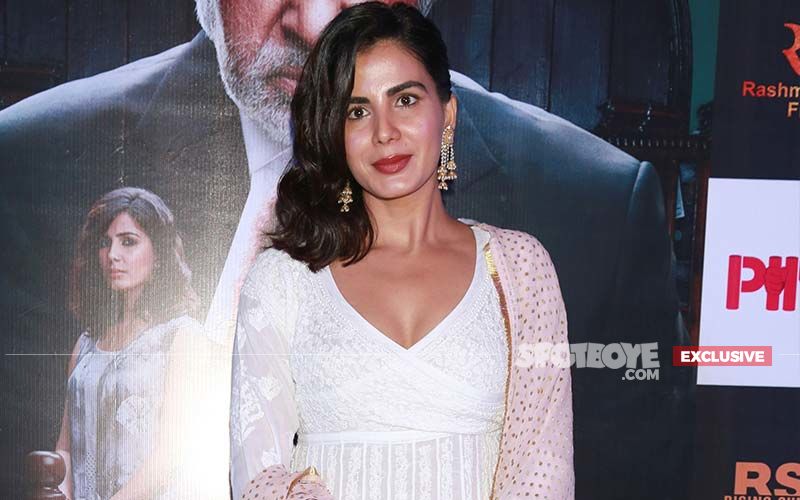 Kirti Kulhari has been the face of the new-age cinema where women know what they want and are courageous and confident enough to ask for it. She has portrayed strong characters in films like Pink, Indu Sarkar and Mission Mangal and her last release Shaadisthan, where she was seen as an independent musician Sasha who believes in living life on her own terms, was another such film.
In an exclusive conversation with Spotboye.com, the actress gets candid about the response to the film, how her views on marriage have changed over the years, being scrutinised on her real-life separation and more. Read excerpts from the interview:
Kirti, how has the response to Shaadisthan been, especially from women?
While I knew that the women would connect to the film as clearly it is about these three different kinds of women, but what I always like is to see who else connects to it. And so many guys have messaged me saying that the subject is good, this is the message that needed to be told and this needs to be changed about our society, and that is the exciting part for me. Also, how the women responded to the film, the characters and the topic of marriage and how it is done in our country, reflects that we achieved what we set out to do.

In our country, the idea of marriage being the most important aspect of our life is instilled in the minds of girls from a very tender age. However, you have got to experience a more liberated world through your work. So, how have your views on marriage changed since you were younger due to the exposure you received and your own personal experience with marriage?
I actually belong to Rajasthan but I have been born and brought up in Mumbai because my dad was in the Indian Navy. I have always grown up in the defence atmosphere but I have also spent a lot of time in my village in Rajasthan by spending every vacation there till I was in 12th standard. So, I have grown up watching the city world and also the village life. Today when I look back, it has added a lot to me as a person.

While growing up, shaadi as a topic was never discussed openly in our family but it was almost an understood thing ki shaadi to karni hai. Usually, once you finished graduation you were supposed to get married and that's how it worked for both my sisters. Although one of them did a love marriage after she joined the army as a doctor. The norm was to study, complete your graduation, take up a job and within a year or two, get married. The age of 22-23 was like a benchmark for getting married.
My village also had girls getting married at the age of 15-18, so I have seen that as well. My parents got married when my mom was 11 and my dad was 13. So, marriage was always an understood thing and that is how the life is going to look like for everybody.
Shaadi was a big milestone for me personally. It had to be done in a certain way, but it so happened that I joined the film industry. The world that I was exposed to kind of removed that age barrier from my mind, but still shaadi was a big deal and something that I had to do. I finally got married in 2016 at the age of 32 and that was still a big leap from the conditioning I had seen, and I had a love marriage.
So, with the way I had led my life before getting married, helped me grow up and also helped people around me accept my choices and the fact that I would live my life on my own terms. After having been through all of that, I look at marriages very differently. For me, it's no longer the be-all and end-all in life. You can choose to get married or not. It shouldn't change who you are or decide in the eyes of the society your value. The choice should always lie with the person and if a marriage isn't working out, you should also have the option of walking out. I just don't believe in the idea that ek baar shaadi kari hai to nibhaani to padegi hi, no matter how miserable both people in that marriage are.
Our country is obsessed with marriage but when I say marriages are overrated, it doesn't mean that I don't believe in love and relationships. I am only questioning what a marriage should be based on. And it's great to start questioning our mindset and that's what I love about my work. My questioning a lot of things through my work is not a coincidence as I am doing it a lot in my life that it automatically gets translated into the scripts I choose. So, in a way acting is so personal to me. I speak so much more through my work than my conversations.
Lately, whenever I open up the Internet to look about you, I see all stories centred around your separation. Do you feel that in this day and age, when we claim that we have evolved as a society, especially in terms of the position of women, they are still scrutinised more on topics like separation or divorce?
Firstly, divorce or separation is a topic that is very hush-hush not just in put country but in a lot of parts of the world, and not just for women but for men too. If you observe around, when a separated or divorced man walks in, the way you look at him is different. So, to begin with, the topic in itself is looked upon.

Secondly, no matter which topic it is, being a woman, itself is so tough in a lot of parts of the country even today, that any topic attached to being a woman becomes doubly difficult. That's just the way things are.
But do I believe things are improving? I really believe that. The fact that people are seeing Shaadisthan and saying this needs to be discussed, gives me hope. We are all struggling with the same conditioning and there are people who are ready to change and are able to recognise the change anything is trying to bring. This awareness shows me that things are changing because people are changing, and it's us people only who make these rules.
I am an optimist who believes in the magic of love and life, and I believe in the magic of me. And while we have a lot of non-believers, we have a lot of believers too, so the fight is on.
You have been a part of stories where women support women. So, in an industry that still pits women against each other, do you think such projects have any affect?
These are topics that have been discussed forever and for me this topic has passed, we have bigger things to worry about. Women are also human, so it shouldn't be a surprise when women are not supporting each other and it shouldn't be a surprise when they are. It eventually comes down to the kind of person you are. These are very individual things that people have to figure out themselves, I am interested in the bigger picture and discuss what we can do together. Self-improvement needs to happen parallelly on the side.

You have an upcoming show Humans, where you play a doctor. What can you tell us about that?
I am working with Shefali Shah, Seema Biswas ma'am and Ram Kapoor in that. It's a medical drama based on human trials and it's a dark thriller. I am playing a cardiac surgeon and I am personally very happy to be representing doctors as now, I look at my projects in the terms of what and who I am representing. I am also representing a big part of our community that I can't yet talk about. But it's something that I am really excited about.

You have been a part of majorly intense roles in your career. Would you be open to being a part of typical Bollywood masala potboilers?
We have enough people to do commercial potboilers, but not enough people to do what I do. So, I think let me handle the kind of cinema I do and others can take care of that side.

So, apart from Humans you also have Four More Shots Please! Season 3. Besides that, what does your future line up in regards to films look like?
I have a couple of short films in my line up but no feature films as such. I was supposed to be shooting for some films but everything is so in air right now. Although, next year, you will see a couple of feature films from my side.

Lastly, after having gone through the whole ordeal, so you think you would be open to marriage again?
I don't think so, but I am also somebody who believes in never say never. However, if you ask me if I will be in a relationship ever again, of course I would be. That part is very clear, as I have the clarity that I don't need to be married to be with someone. So, mostly I don't think I will ever get into it again. I have understood that I am not someone who is probably made for marriage.



Image Source: Instagram/iamkirtikulhari, spotboye archives