Koffee With Karan: The Most Memorable Moments From The Last Season Of Karan Johar's Chat Show
As Karan Johar gave a little taste of his popular chat show Koffee With Karan recently with a special episode with the cast of The Empire. Here are some of the most memorable moments from the last season of the filmmaker's famous chat show.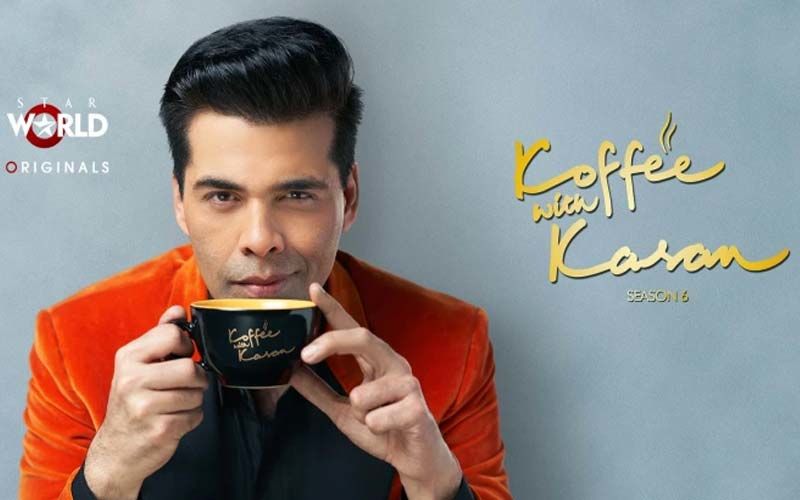 Koffee With Karan has been one of the naughtiest, spiciest, at times controversial, but always fun chat shows that has ever arrived on Indian TV. Karan Johar started this show in 2004 and has completed six seasons with it till date. It has been more than two years since Karan welcomed any guest on the couch of his show, but recently the filmmaker made a little comeback of sorts, as he did a special episode titled Koffee Shots With Karan with Kunal Kapoor, Dino Morea and Drashti Dhami from the cast of the show The Empire.
KWK has given some iconic and memorable moments each season, be it the accent remark back-and-forth between Kareena Kapoor Khan and Priyanka Chopra Jonas, Deepika Padukone and Sonam Kapoor's digs at Ranbir Kapoor or the fiasco of the name of the Indian President by Alia Bhatt. And as we revel in the special episode that Karan has brought us, let's revisit the most memorable moments from the last season of the filmmaker's chat show.
Alia Bhatt burping on National Television
The sixth season opened with a bang with two of the leading actresses of the Hindi Film Industry, Deepika and Alia. And even though they weren't there, Ranbir Kapoor and Ranveer Singh's presence could be felt since they occupied a large portion of the conversation. There were marriage discussions, secrets from the Coldplay concert the actresses attended together and more, but what took the cake was Alia burping on national television.
Varun Dhawan finally admitting his relationship with now-wife Natasha Dalal
This year marked a big step in Varun's personal life as he got married with his long-time girlfriend, designer Natasha Dalal. But it was on Karan's couch alongside Katrina Kaif, that the actor first publicly accepted his relationship with his now-wife.
Saif Ali Khan Saying, "Got cash, take her" for daughter Sara Ali Khan while she confessed her crush on Kartik Aaryan

Sara made a mighty good first impression on screen as she appeared on Karan's show for the first time with her dad Saif. The actress was frank and honest and created waves when she openly accepted having a crush on Kartik, and this was before Love Aaj Kal. Eventually, they did end up dating reportedly. But what made the moment more memorable was Saif's reply when asked what questions he would ask Sara's boyfriend. His, "Got cash, take her" remark just took the internet by storm.
Arjun Kapoor and Janhvi Kapoor making their first appearance together on screen
Arjun has had a strained relationship with late Sridevi and her daughters Janhvi and Khushi Kapoor, ever since his father Boney Kapoor separated from his mother to be with her. But when Sridevi passed away suddenly in 2018, Arjun took over the role of the son and the big brother in the family and the whole family got close. It was after this that Arjun and Janhvi made their first appearance together on KWK, and it never felt that there was any distance between the siblings.
Ajay Devgn making Karan speechless with his 'K films' comment
Ajay might have the persona of a silent and shy man, but when he appeared on KWK last season with wife Kajol, he came all guns blazing. During the rapid fire, when Karan asked him about a superstition that he believed, Ajay left the host speechless as he replied that he believed that all Karan's films starting with K worked until they did Kaal. The answer was so amazing that it was declared as the line of the season winning the actor an Audi car.
Badshah calling Kartik overrated
Rapper Badshah made his debut on KWK with fellow debutante Diljit Dosanjh in one of the most fun episodes of the whole KWK franchise. While Diljit's 'khet' remark tickled the funny bone of all, Badshah calling Kartik an 'overrated actor' raised the eyebrows of many.

Hardik Pandya and KL Rahul's controversial episode

Who would have thought that two young leading Indian cricketers would make for the most controversial episode of KWK's history? But that's what Hardik and Rahul did. The episode came under spotlight for a lot of wrong reasons with people calling Hardik's comments sexist and misogynistic, so much so that it had to be taken down from the digital platform, but it did make for a memorable moment.
Kareena and Priyanka coming together on screen after a long time
Kareena and Priyanka have been pitted against each other ever since they first starred together in Aitraaz. There has been a lot written on the differences between the two, and also on a previous season of KWK Kareena had asked PC where she got her accent from, to which PC had replied, the same place her boyfriend got it from. So, when the two of the most successful actresses of Indian cinema came together, there were fireworks all around.



Image source: Hotstar