Lata Mangeshkar Reveals Pandit Jawaharlal Nehru Called Her And Said 'Mere Aankhon Main Paani Aa Gaya' After Hearing Ae Mere Watan Ke Logon-EXCLUSIVE
On the occasion of Republic Day 2021, Lata Mangeshkar in an exclusive conversation with SpotboyE talks about her iconic song Ae Mere Watan Ke Logo.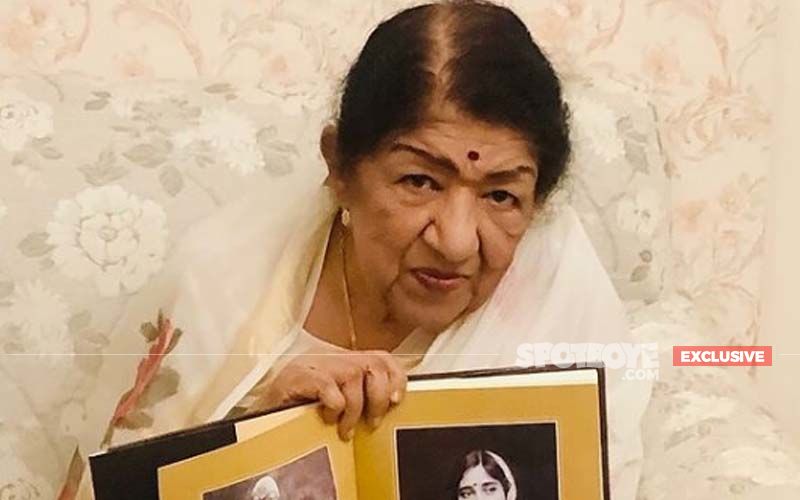 Back in 1963 on January 26, the night angle of India, Lata Mangeshkar created history as she sang the iconic song Ae Mere Watan Ke Logo at the National Stadium in New Delhi in the presence of the then Prime Minister Pandit Jawarharlal Nehru. Generations have heard the story of how Panditji broke down as Lata didi (as she is fondly known) sang the powerful lyrics. On the occasion of Republic Day 2021, Padma Vibhushan Lata Mangeshkar narrates this day back in 1963 that is etched in her memory forever.
"Kissko pataa tha yeh gaana logon ko itna pasand ayega? (who knew the song would be so much liked by people?). When Ae Mere Watan Ke Logon was being created we never thought it would become such an imperishable patriotic anthem. I recall vividly that cold winter evening in Delhi in 1963 when I sang the song as part of the Republic Day celebrations in front of an audience that comprised President S. Radhakrishnan, Prime Minister Jawaharlal Nehru, Indira Gandhi and so many other distinguished guests. It was Pradeepji, the poet who wrote the immortal lyrics, who came to me and asked me to sing the song. I declined because there was no time to rehearse and prepare to sing it in front of so many distinguished personalities."
You see, at that time I was working round-the-clock. To give special attention to one song seemed impossible. We had very little time to get Ae mere Watan ke logon ready. Rather than do a rush job I wanted to opt-out. But Pradeepji said if I don't sing Ae Mera Watan ke logon he would scrap the idea. I agreed. But I suggested we format the song into a duet with me and my sister Asha (Bhosle). But Pradeepji wanted it to be a solo. I insisted that we do it as a duet. In fact, Asha had even rehearsed for the song. But then days before we were to fly to Delhi she came to me and said, 'Didi. I'm not coming to Delhi.' I tried to convince her to change her mind arguing that her name had even been printed in the newspapers as one of the singers for Ae Mera Watan. But she was adamant.
Composer-singer Hemant Kumar had actually orchestrated the whole Ae mere Watan ke logo project. I told Hemantda about Asha's decision to not accompany us to Delhi to perform the song. Hemantda also tried to convince Asha. Lekin Woh Nahin manee. Then it was left to me to rehearse alone for the song. Pradeepji told C Ramachandra who was composing the tune for Pradeepji's words, about my predicament. C. Ramachandra informed us he had to be in Delhi at least 4-5 days in advance before our performance. So he was unable to rehearse the song with me. Instead, he gave me a tape of the number. I picked up the tune from the tape and flew to Delhi on 26 January with all the big names from the film industry. Dilip Kumar, Raj Kapoor, Mehboob Khan, Shankar-Jaikishan, Madan Mohan...we were all in one aircraft. I was listening to the tape with C Ramachandraji's rendition of Ae mere Watan ke logon all through the flight from Mumbai to Delhi.
I was accompanied by my best friend Nalini Mhatre. When we reached Delhi in the night I had a stomach ache. I asked Nalini how I'd sing in my condition. She told me not to worry, everything would be fine. On 27 January we reached the venue. I sang two songs. The Bhajan Allah tero naam followed by Ae mere Watan ke logon. I was much relieved to get it over with. After I finished my two songs, I went backstage to relax with a cup of coffee unaware what an enduring impact the song had created. Suddenly I heard Mehboob Khan Saab calling for me. He caught hold of my hand and said, 'Chalo, Panditji (Jawaharlal Nehru) ne bulaya hai'. I wondered why he wanted to see me.
When I went out everyone including Panditji, his daughter Indiraji, Radhakrishnanji stood up courteously to greet me. Mehboob Khan Saab said, 'Yeh rehi hamari Lata. Aapko kaisa laga usska gaana?' Panditji said, "Bahut achcha. Mere aankhon main paani aa gaya'. They all complimented me. Then we were all invited to Panditji's home for tea. Some of us from the film industry including Shankar-Jaikishan, Raj Kapoor, Mehboob Khan, Dilip Kumar proceeded to Panditji's residence. While the rest of the entourage spoke eagerly with Panditji, I stood in a dark corner hesitant to make my presence felt. Suddenly I heard Panditji say, 'Lata Kaha hai?'. I kept standing where I was. Then Mrs Indira Gandhi came and took my hands saying, 'I want you to meet two of your little fans.' She introduced me to little Rajiv and Sanjay Gandhi.
They did Namaste and ran away. Then Panditji again asked for me. Mehboob Khan Saab came and took me near Panditji. Panditji asked, 'Are you going to go back to Mumbai and sing Ae mere Watan ke logon?' I replied, 'No, it was meant to be a one-off thing'. He wanted a picture with me. We posed for a keepsake and then I quietly left. I had to rush back because it was my sister Meena's wedding in Kolhapur. When I returned to Mumbai the next day with my friend Nalini I had no idea that Ae mere Watan ke logon had already become a rage. When we reached Mumbai the city and the media were buzzing with the impact that the song had made in Delhi, how Panditji broke down, etc, etc.
I attended a film premiere for a Marathi film where I had composed the music and the following day left for Kolhapur for my sister's wedding. Anyway in Kolhapur, I had no idea that the song was taking over the nation's psyche. Who was to know that the song composed for a Republic Day function would have such an enduring impact? Only Pradeepji had faith in the song. He had prophesied to me, 'Lata, tum dekhna yehgaana bahot chalega. Log hamesha ke liye issey yaad rakhenge.' I didn't take it that seriously. Since it was not part of a film I thought it would have a limited impact. Ae mere Watan ke logon became my signature tune.
No show of mine, no concert or event is complete until I sing Ae mere Watan ke logon. I give full credit to Pradeepji for writing such powerful words. He wrote words that reverberated across the nation. We had just come out of a war defeat with China. Ae mere Watan ke logon triggered emotions of great patriotic pride in every Indian. I regret that Pradeepji had not been called for the Republic Day function where I sang the song to immortality. If he was there he would have seen with his own eyes what impact Ae mere want ke logon had created."
Image source: Youtube/GyanvaniTube/Britishpathe
/instagram/lata_mangeshkar