Late actor Irrfan Khan's elder son Babil Khan is pretty active on social media. Apart from sending all of us down memory lane by sharing the actor's photos, he is also often seen sharing anecdotes of his life with his Insta fam jam. However, a social media user was a little too interested in Babil's religion as the user simply went on to ask him if he is a Muslim. Unfazed about the question or getting irked by it, Khan simply mentioned that he doesn't belong to any religion and then commented, 'I am Babil'.
He then shared the screenshot of his conversation with the user on his Instagram stories. He stated that he has read some religious books like 'Bhagavad Gita', 'Quran' and halfway to reading 'Guru Granth Sahib'. Giving a little humanly answer, Babil Khan captioned it as, "I have read the bible, Bhagvad Gita, Quran and I'm in the middle of reading Guru Granth Sahib. I am for all. How we help each other evolve is the basis of all religions." This is not the first time where Babil has kept his views and thoughts on social media. He even addresses the trolls who try to even criticise him.
Similarly, when he dropped some old pictures of his late father Irrfan Khan along with a heartfelt caption on Instagram, a fan spotted something else in the photos. The user asked him if Irrfan was having a joint. Clearing the confusion of the fan, Babil quickly said there were joints.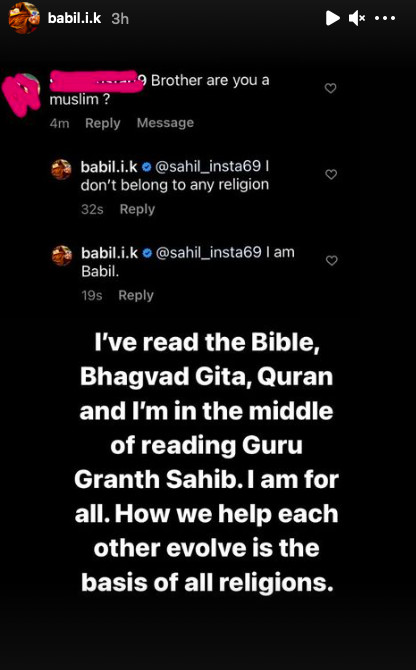 Image source: Instagram/ babil.i.k