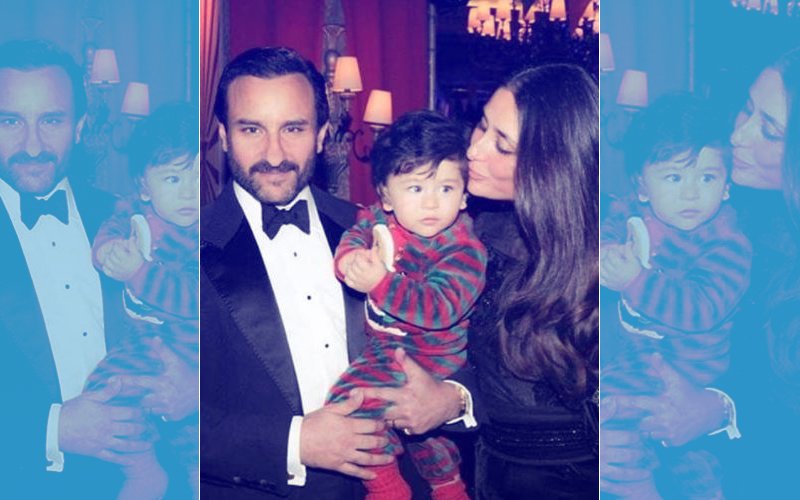 Taimur Ali Khan has always grabbed limelight with his super cute antics and is already an Internet sensation. A new picture of Taimur has surfaced online where he is seen in the arms of daddy Saif while mommy Kareena kisses his forehead. The picture was taken during the New Year celebrations.
The family had taken off to Switzerland to ring in the New Year. Saif, Kareena and Taimur were seen having a time for their life. Taimur was seen enjoying his first snow in Switzerland.
The family also celebrated Taimur's first birthday at the Pataudi Palace in Haryana. Many pictures of his birthday surfaced online. In one of them, he was seen enjoying a tractor ride with Saif and Kareeena.
Of the paparazzi's interest in Taimur, Saif recently said, "Kareena and I knew there would be media interest in our son. It's hard to bring up kids without the attention; I don't know how he is going to react to the attention when he grows up."
In an interview, Kareena Kapoor recently said, "When I was pregnant, both Saif Ali Khan and I had spoken about this and how we'd handle it. He was like there's nothing to hide. He's our child and this is the way it's going to be. He's going to be photographed, so be it. It's convenient for stars when they want to be clicked… like at events while putting on makeup, wearing an outfit… and so on. So why hide your child? We're pretty open and clear about it."
Image Source: Instagram/therealkareenakapoor