Love Sonia: Rajkummar Rao, Manoj Bajpayee, Freida Pinto, Richa Chadha & Mrunal Thakur's Fierce First Looks
After winning hearts at various film festivals across the globe, the makers of Love Sonia have shared the first posters of the film. Starring stalwarts like Rajkummar Rao, Manoj Bajpayee, Freida Pinto, Richa Chadha and many others, the film marks the debut of popular TV actress Mrunal Thakur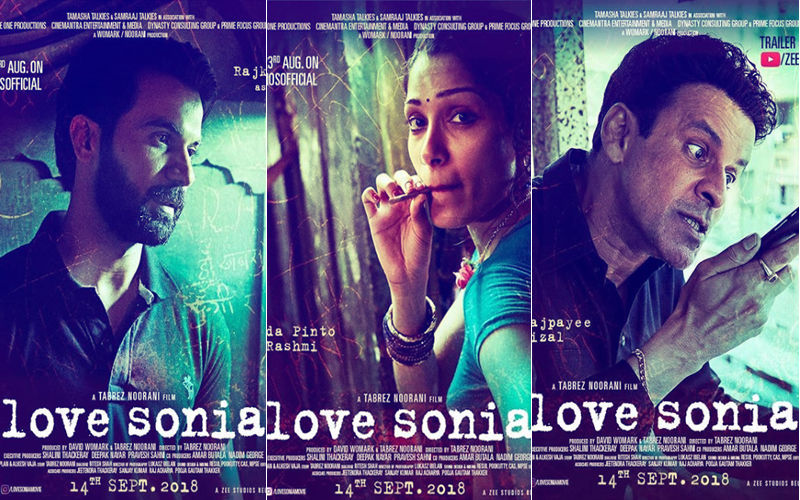 Love Sonia starring many big names like Rajkummar Rao, Manoj Bajpayee,
Freida Pinto, Richa Chadha, Murnal Thakur
and others, Love Sonia has been receiving a lot of praise at various International film festivals. The film has been receiving applause wherever it went. With so many renowned names attached to the film, it was always going to be a talked about project.
After touring the film festival circuits, the film is finally going to be releases in theatres. The makers of the film have released the character posters of the film a little while ago, and every poster is tells a stunning story in itself. Check all of them right here:
Directed by Tabrez Noorani, the film has also found support from many Bollywood personalities. Many had been fortunate enough to catch the film at different film festivals around the globe.
Filmmaker Rajkumar Hirani had expressed after watching Love Sonia, "The most disturbing film I have ever seen in life and I am saying it in a good way. It requires tremendous courage and empathy to do this, a big salute to the entire team of Love Sonia."
Vicky Kaushal had shared after a screening of Love Sonia, "Stunned and shocked and so moved after watching Love Sonia. Every moment, every performance is as real as it can get. Kudos to Director Tabrez Noorani for his brilliant research and direction and to each and every actor in the film for their performance."
Talking about the film it is a hard-hitting story of a 17-year-old girl who risks her life to rescue her sister from sex trade. The film has been shot in India, Hong Kong and Los Angeles.
Alongside the aforementioned names, the film also stars Anupam Kher, Adil Hussain, Sai Tamhankar, Sunny Parwar, Demi Moore, Mark Duplass and Riya Sisodiya. Love Sonia hits theatres on September 14.
Image Source: instagram/lovesoniathefilm