Lunch With Li'l Ahil, Dinner With Nick Jonas – Priyanka Chopra's Dates In NYC
Arpita Khan Sharma took to social media and shared a picture of her son who is strolling on the streets of New York with Priyanka Chopra. While photos of PeeCee and Nick Jonas with a fan also kept netizens busy...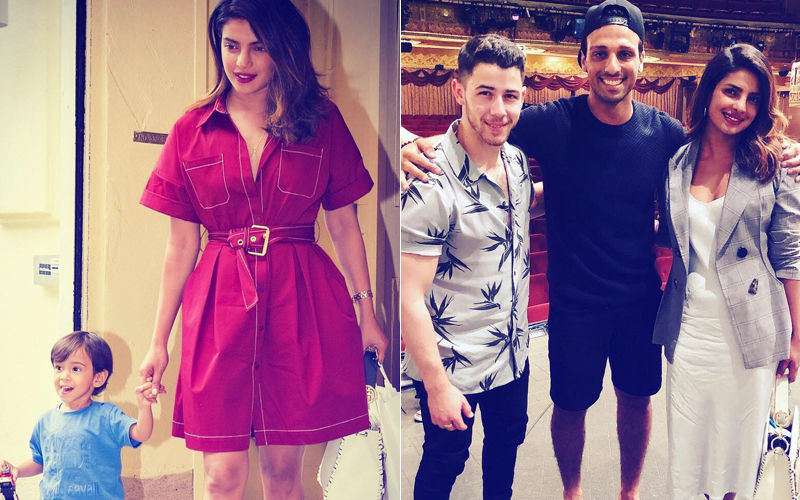 After a mini-vacation in India, Priyanka Chopra, and boyfriend Nick Jonas flew to Brazil for latter's concert in the country. Now, the couple has returned to New York and guess who did PeeCee meet here?
Well, she is Salman Khan's darling sister Arpita Khan Sharma and her son, Ahil. Arpita took to social media and shared a picture of Ahil and the actress walking on the streets of NYC, yesterday. She captioned the picture as, "My favourites @priyankachopra & Ahil ! Nyc diaries ❤️
In the picture, the actress looks hot in a red button-up shirtdress tied at the waist with a belt. She completed the look with gold strappy sandals.
But Ahil's not the only date Priyanka had yesterday, she was also spotted with the love of her life, Nick Jonas, last night. Pictures and videos of the duo started floating on the Internet in no time.
In a video that has been shared online, we can see a fan approach Priyanka for a selfie. Not only does she oblige the fan, but also sends her off with a hug after she's taken the photos. And all this while, Nick waits patiently for his ladylove.
Coming back to PeeCee meeting Arpita and Ahil, the actress makes sure to meet them whenever she returns to India. However, this time, during her India visit, PeeCee could not do that as Arpita has been accompanying brothers- Salman and Sohail Khan- on their Dabbang Reloaded world tour.
In March, when PeeCee was down in India, she had caught up with Arpita at an eatery in Bandra. And this time is no different, just that the besties were lunching at a restaurant in NYC.