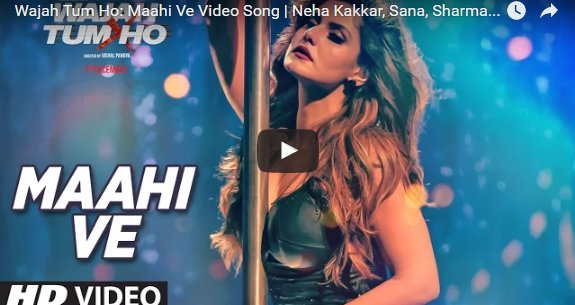 Video Source: youtube/t-series
Add this one as well in the long list of recreations which are topping the charts nowadays. 'Maahi Ve' is the latest rendition from the makers of Wajah Tum Ho and features Zareen Khan.
Just like the original 'Maahi Ve' from Sanjay Gupta's Kaante (2002), this version of 'Maahi Ve' shows Zareen performing a sultry pole dance. The original track saw Malaika Arora grooving to the beats. Malaika created a lot of buzz with her moves back then. The song was considered ahead of its time and raised the bar for sultry item numbers.
This one here starring Zareen Khan goes totally down the hill! The opening shots of the song are absolutely hilarious and not a bit sensuous. The signature step of the song again will leave u in splits! Wonder what was the purpose of the song- to tickle laughter bones or to arouse emotions?
Coming to the track, it has been recreated by composer Gourav Roshin. Neha Kakkar has sung the song and lyrics have been written by Kumar. The song comes at a significant point in the film giving a twist in the tale. Neha's voice is definitely nowhere close to the level where Richa Singh (original singer) took the song.
Buzz is that Zareen has put in a lot of heart and soul into the song. She has worked very hard to sport a slender look. She also took classes to master the act of pole dancing.
While the other tracks from the film are getting good reviews, the makers are hoping that 'Maahi Ve' too gets positive response from the audience. However, after seeing the song, fulfilment of the wish seems to be impossible.

Wajah Tum Ho is presented by the makers of Hate Story2 and 3.
Hate Story 2 and 3 were also helmed by Vishal Pandya. Vikram Bhatt co-produced Hate Story 2 and wrote the screenplay for Hate Story 3.

Thumbnail Image Source: tollywood & images