Mother's Day 2021: Sameera Reddy Says, 'Even Though I'm Strong And Positive, When Hans Got Covid, I Broke Into Pieces'-EXCLUSIVE
This Mother's Day, Sameera Reddy talks about the challenges she faced while watching her kids get Covid. She discusses her concerns for her kids, Hans and Nyra, growing in the middle of a pandemic and more.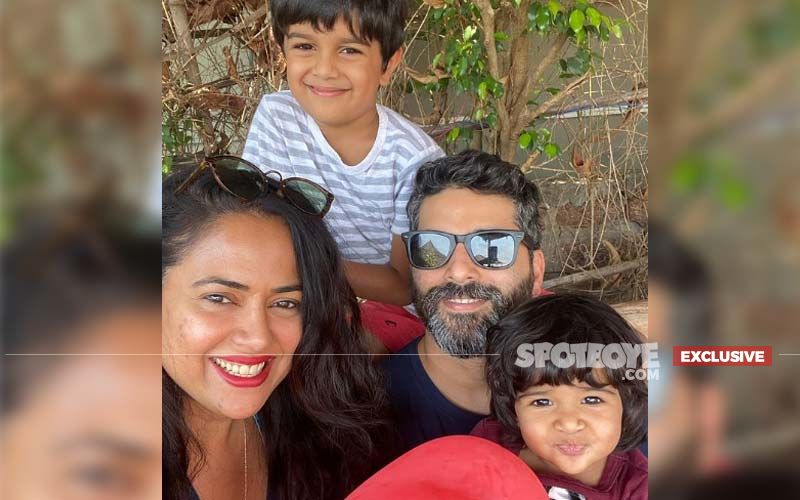 Sameera Reddy has been a hands-on mother for her two kids, Hans and Nyra, ever since they were born. The actress has shattered glass ceilings on every step through her journey post films, be it accepting her greying hair or her weight gain or having a pregnancy photoshoot. She has been a true embodiment of a modern, confident Indian mother. Recently, she went through a hard time when both her kids got Covid at the same time, but eventually the family got a happy ending as both of them recovered. This Mother's Day, Sameera gets candid in an exclusive conversation with Spotboye.com, and talks about the whole ordeal of dealing with that situation, finding support in the online community and more. Read excerpts from the interview:
After everything that you have gone through in the past one year and especially in the past one month, how does the importance of Mother's Day change for you this year?
For me, not just this Mother's Day but ever since I became a mother, I feel like I have been reborn. That is why every year it gets more special, exciting, entertaining and adventurous. I don't think anyone enjoys this day as much as I do, and with my kids every day becomes a celebration. This year is slightly different because I have taken so much extra care of my kids due to the situation and also, they have just recovered from Covid, so I make sure they have a fun time with their Mumma.
As a mother, it's heart-breaking to see your kids go through something that even you don't have a complete idea about. You just want to protect them from everything as a parent. So, seeing both your kids get Covid in front of your eyes, how challenging was it to go through the whole ordeal?
There was this misconception that Covid doesn't affect kids as such, so I was more focused on taking care of my mother-in-law and my parents as they are from the more vulnerable group as we have seen. Even though I am a very strong and positive person, when Hans got Covid, I broke into pieces. I remember when my husband Akshai told me about Hans's results, I just couldn't move. I just sat on the bed and burst out crying and that is so opposite to my personality. I am a very practical person who looks for possible solutions when faced with a problem, but here my brain couldn't even process what I had been informed. It took me about 10 minutes to gather myself and start calling doctors to plan for the future course of action.
The panic and fear created over the last year has seeped inside us to a very deep level. So, even if you keep on saying 'Stay strong', there is always an underlying deep-rooted sense of absolute fear when it hits you. The minute Hans started showing symptoms, the next day Nyra started vomiting. She threw up 13 times in one night and I almost ran to the hospital since I couldn't handle it. Both of the kids got sick together, so it was really hard for us. I have to admit that I wasn't strong and I cracked, but I had to pick myself up because I had to decide what to do next.
People were shocked when within four days of my kids getting Covid, I put up a video with a top doctor from Mumbai, telling parents not to panic for their kids along with all the information I had gathered about it in those four days. I made sure to put it out as parents were surprised by the fact that even kids were catching the virus. I didn't wait at all as I felt it was my duty to do it. Nobody prepared me for it, so I had to prepare others.
Your Instagram has been a testament to the fun that you have with your kids, and even when they got Covid, you didn't stay away from social media and it was visible how you were trying to stay positive and pick everyone up. How challenging was doing that while you were worrying so much about them on the inside?
Over the last two years, this community of amazing people online have supported me and let me be who I am without judging me. They have also become my family now, so it was important to me to share everything at a certain level to have people understand what they can go through and how can they still stay positive through it.
I was honest with them about cracking up during this time, but talking about it healed me too. People sometimes get stressed out due to social media but for me, it actually supports me, heals me and holds my hand at times I need it. During Covid, there were a lot of well wishers who helped me get through it in a way.
I also felt that a lot of people were worried about my kids as Hans and Nyra have kind of become an integral part of their life as well. People were asking me for continuous updates on them and at times it almost felt like I owed it to them. I just couldn't get off the platform and I am happy I didn't as I even helped a lot of anxious parents.
You have embraced every aspect of your life and personality with utmost confidence, be it the greying of your hair, gaining weight post motherhood or sharing your face with the world with no make-up, some things that usually Bollywood doesn't let people do. Where does that confidence originate from?
I cracked when I got out of the business and went through a very bad phase where I questioned everything about myself. I have always been open about the fact that when I put on weight and couldn't get back in shape after I had my first baby, it made me question a lot of things about my life and made me feel like a failure. I couldn't get back into the business like a lot of actresses do and it got to me and made me realise I wasn't as strong as I thought myself to be. So, in a way my biggest fear became my biggest strength.
My fear that people will know that I started greying at 19, that I am not a skinny girl and I put on weight very fast, were coming true. The fact that I am 42 today and most actresses get scared due to the so called "shelf life", there were so many patterns to be broken which actually were making me not feel good about my life. And I just asked myself why?
We have one beautiful life and everybody is struggling and being judged all the time. What should be normal is not considered normal, like having a normal face and body, being brown skinned and beautiful and not skinny. I just wanted to normalise it and I did it because I needed to heal. In my healing, many people came forward to support me.
When people say that I am so brave and bold, I tell them I am not. It is how mothers and young women should be told that they are beautiful. You are beautiful irrespective of these standards. Who defines blue eyes, light skin and long hair as beautiful? The more I talk about it, the more empowering I know it is for many people. In the beginning I used to get trolled heavily, but now no one trolls me. Even they feel like this woman doesn't care at all. It took a year for the sceptics to leave me be.
Do you see that confidence that you possess being passed on to Nyra?
Absolutely. I am telling you she is a force to be reckoned with. she is so much fun. And that is the case with both my kids. I keep this sense of truly letting them be who they are. A lot of people try to control their children, but I like to show them the way and let them blossom right there. Both Hans and Nyra are so individualistic but they have a very deep sense of family. It's not just being together but having respect for each other as brother and sister. That is what is more important to me.
The confidence comes naturally to them because I let them blossom and that is the need of the day. I don't want Nyra to go into her teens wondering about the beauty standards that some magazine has set. The truth is that the society is feeding us what we should or should not be, or what we should be ashamed of, and I feel these words like shame, should be banned. It really upsets me seeing young girls succumbing to it.
Does it concern you as a mother seeing that your kids are not getting as much outside exposure as we as kids have gotten?
I don't know if many people know about this but I packed our bags and baggage and me and my family just moved from Mumbai to Goa in a very secluded place one year ago. It is so cut off, that there is no one here. There is just an outside garden and a road with no one around, and that is why I was shocked when we got the Covid. I have moved to such a place so that, irrespective of lockdown, my kids can go out and play. I did it because I knew that the next two-three years would be tough.
I never believed that Covid had disappeared, even though I know a lot of people wanted to believe it and even I wish it was true, but my husband and I knew we needed to protect our family and for that we had to come in the middle of nowhere. I was initially a bit hesitant to leave Mumbai and my parents but fortunately my husband had that foresight.
However, I haven't met my parents for a year now. It's also upsetting that Hans hasn't seen any of his friends. We have had the childhood where we had played on streets and danced in Ganpati, but for the next few years there is going to be a scarring of sort. But what can we do? Just the feeling of meeting someone physically or shaking someone's hands, for even us adults, is going to be so different.
How do you plan to spend this Mother's Day?
Honestly, my kids are like two monkeys wrapped around me all the time. There's always dancing, drama and entertainment. What is there on my Instagram, is what is really going on at my house all the time. From morning to night, my kids are like a walking-talking form of entertainment. They entertain me and I entertain them. Today, we are going to have waffles, order pizza maybe and do something fun, which we normally also do.
Apart from being a mither yourself, you are a kid too. You have a mother and a mother-in-law as well. So, what are your plans for them?
My mum-in-law lives with me, so she is anyway part of everything I do and she is damn cool. As for my mum, I really miss her a lot. The week Hans got Covid, she was booked to come to Goa and I was going to meet her after a year. She was booked to come on Friday and we got Hans's results on Wednesday. Sometimes I feel that God was kind to protect her but at the same time, my heart broke as I had so many things planned for her. I had decorated her room and got her favourite fruits. It was like I had two bad news, one Hans being unwell and second my mother not coming to me. But in hindsight I am just glad that she is safe and healthy.

Image source: Instagram/reddysameera

They say the best things in life are free! India's favourite music channels 9XM, 9X Jalwa, 9X Jhakaas & 9X Tashan are available Free-To-Air. Make a request for these channels from your Cable, DTH or HITS operator.