Muskurayega India: Akshay Kumar, Kiara Advani, Kartik Aaryan, Tiger Shroff Are Here To Lift Your Spirits Amid The COVID-19 Lockdown – VIDEO
With #MuskurayegaIndia, Akshay Kumar, Kartik Aaryan, Tiger Shroff, Ananya Panday, Kiara Advani, Sidharth Malhotra and others are sure to brighten up your day amid the Coronavirus lockdown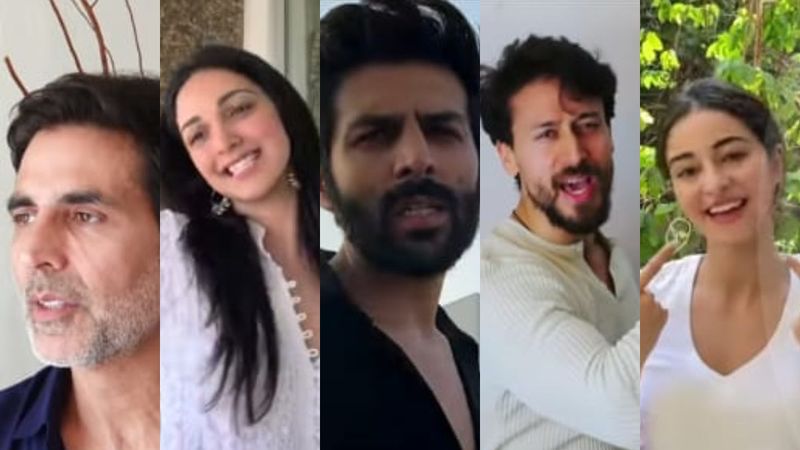 The ongoing Coronavirus outbreak phase is extremely stressful for each one of us, as we are locked inside our houses with our lives and daily routine coming to a standstill. Other than affecting so many lives, the deadly pandemic has also plummeted many markets. All our superheroes in disguise, that is, the medical professionals, police officers and everyone else who is leading the fight, are giving their best and protecting us. In order to pay a tribute to the same, Akshay Kumar and Jackky Bhagnani have come together with a special music video, Muskurayega India, to motivate all the Indians amid such crisis.
It also features Kartik Aaryan, Rajkummar Rao, Ayushmann Khurrana, Kriti Sanon, Kiara Advani, Vicky Kaushal, Ananya Panday, Sidharth Malhotra, Bhumi Pednekar and Tiger Shroff. The video manages to strike the right chord with some heartwarming lyrics and visuals that depict the heartbreaking reality of our country. Right from showing locked down shops and empty roads to paying an ode to doctors and cops; Muskurayenge India is sure to bring a smile on your face and brighten up your quarantine. The song has been composed and sung by Vishal Mishra.
"All we need is a united stand. Aur phir #MuskurayegaIndia! Flag of India Do share with your family and friends @jackkybhagnani @VishalMMishra #CapeOfGoodFilms @Jjust_Music," wrote Akshay Kumar as she unveiled it.
Check out the video below:
Earlier in the day, Akshay Kumar opened on up about the initiative to Mid Day, He said, "At a time when our days are clouded with uncertainty, and life has come to a standstill, we want people to be certain of one thing — everything will be back to normal and all we need to do is put up a united stand against this pandemic. This song is one step towards doing that."
image source: twitter/akshaykumar