National Film Award 2019: Surekha Sikri, Amit Sharma And Others On Winning The Most Coveted Film Awards
Winners of National Film Award 2019 were announced just sometime back in New Delhi. Winners like Surekha Sikri, Amit Sharma, Swanand Kirkire & others react on their prestigious win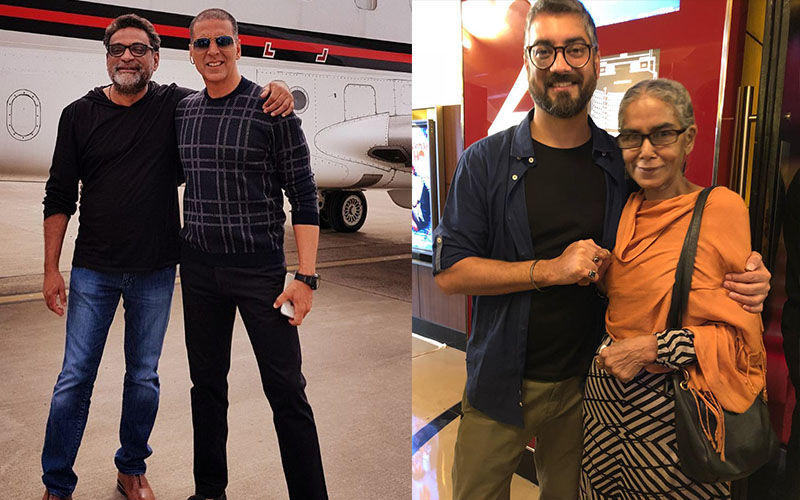 The winners of the 66th National Film Award 2019 were announced in New Delhi by the jury a while ago. The winners, of course, are elated on being honoured by the Government of India and hence has reacted to their names being the chosen ones. Read on to what the celebs have to say. With fans sending congratulatory messages to their favourite stars, the winners themselves have opened up on being conferred with the prestigious award. The winning celebs have now expressed their excitement on winning big at the National Film Awards. Be it through social media handles as well as during their interaction with the various portal.
Ayushmann Khurrana won the National Film Award for Best Actor
In a statement, Ayushmann Khurrana said, "It's truly humbling and hugely gratifying to win the coveted National Award. As an artiste, I have always tried to back disruptive content that stands out for its quality content. Today's honour is a validation of my hard work, belief system, the journey in movies and my reason to be an actor in the first place. Over and above my personal win, I am thrilled that both the films that I have done - Andhadhun and Badhaai Ho have won at the prestigious National Awards. It again validates that people of our country want to see cinema that entertains and can be cherished. Andhadhun is a path-breaking film and Sriram Raghavan deserves all the accolades for creating a new genre of cinema for Indian audiences to enjoy. I have been truly fortunate to be a part of Sriram Raghvan's vision and congratulate my director for his genius. As an artiste, Andhadhun challenged me and I strongly feel it made me a better actor. With Badhaai Ho again, I took up a taboo topic because I believed that people would be ok to see this kind of cinema. I am glad that a subject like Badhaai Ho also won big today and I congratulate my director Amit Sharma for his breakthrough script that became a talking point in every household. It was a pleasure to collaborate with a forward-thinking creative mind like him and again disrupt the stereotyped notions of what Hindi cinema should be. I will continue on this journey to discover and back cinema that truly stands apart and brings people back into the theaters."
Tabu's reaction on National Film Awards for Andhadhun
"It's one of the happiest moments of my life and career. Proud to be part of Andhadhun."
R Balki's reaction for Padman being Best Social Issue film
"This is so overwhelming. To do a film on such a subject for mainstream Bollywood is unheard off. Pad Man will always remain close to my heart and this feels special."
Swanand Kirkire on winning Best Supporting Actor award for Chumbak and Padman
"This has to be one of the best days of my life that two of my films won National Film Awards. For Chumbak, this has come as the biggest surprise. I don't know what to say because acting was something I never thought I would do. I don't know how to respond. This is overwhelming."
Amit Sharma on Badhaai Ho winning the Best Popular Award
"I am speechless I had no idea about awards and business when I was making this film. The response that I got for this film was overwhelming. National Film Award is a prestigious award and it really means a lot for everyone. It was such a simple subject and story. We have made this with utmost honesty."
Neena Gupta too was quoted saying, "I have been super proud of the film from day one. I am so happy for the award. It deserved to win the best film because according to me it is. I feel very happy for Amit and all of us. I would like to congratulate Surekhaji on winning the Best Supporting Actress award. It really is amazing."
Surekha Sikri for winning Best Supporting Actress Award for Badhaai Ho, said, "I am very happy that a role like this was written. I am really happy for the film and I wish all of us from the team could win awards. Special thanks to the writers and Amit for directing us the way he did. I feel doing this was so worth it. The film deserves a lot more as it is so beautiful, real and entertaining"
Director Aijaz Khan said this for the film Hamid, "I am overwhelmed. I am at a loss for words. This win means a lot to me. I had difficulties to get it released. I can't describe my feeling. It's sad though that I can't reach Talha or his family (because he lives in Kashmir)."
Image Source: Instagram/AmitSharma/AkshayKumar