Kim Kardashian took the internet by a storm with her appearance at the Met Gala on September 13, 2021. The actress caught everyone's attention after she made the most unique appearance amongst all the celebrities who walked the carpet on Monday night. She was covered in all black from head to toe, and not an inch of her skin was visible - only her long ponytail hung behind her head.
Shortly after her appearance, the American TV personality topped popular Twitter trends across the globe, and unsurprisingly, her unorthodox styling invited a flurry of memes. Some even saw it as a good opportunity to curate educational memes which can stir social change. Yes, you heard that right!
Amitabh Bachchan's granddaughter Navya Naveli Nanda joined the bandwagon as she took the initiative to break the stigma associated with periods by sharing and amplifying a meme in reference to Kim's new look.
Taking to Instagram stories, Navya shared a meme posted by her foundation Aara Health and compared Kim's head-to-toe clothing with a packet of sanitary pads - that's usually covered with a black polybag by pharmacies across India.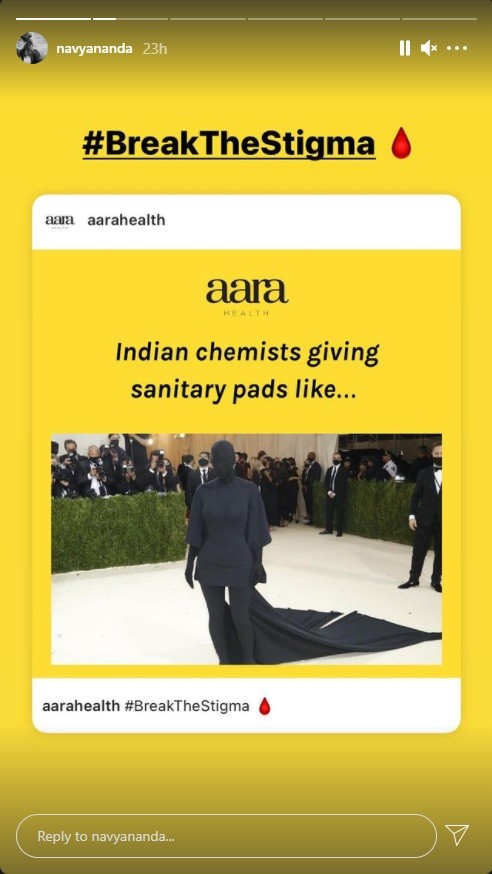 The healthcare activist shared the post with the caption "#BreakTheStigma". Furthermore, she also shared a picture of a blood drop.
Navya launched Aara Health - an online healthcare platform for women - with Mallika Sahney, Ahilya Mehta, and Pragya Saboo, a few months ago. Aara Health aims to bridge India's healthcare gender gap by building a secure, non-judgmental, and trustworthy virtual healthcare platform for women.
The 24-year-old activist is also the founder of Project Naveli, another non-profit organisation, which provides women with access to opportunities and resources to allow economic and social empowerment.
Image Source: Instagram/navyananda