Navya Naveli Nanda Opens Up About Jaya Bachchan's Statement On Having Kids Without Wedding; Shares, 'Felt Comfortable To Talk About Relationships'
Navya Naveli Nanda opened up about the comfort level she shares with her grandmother, Jaya Bachchan, to open up about topics like relationships and friendships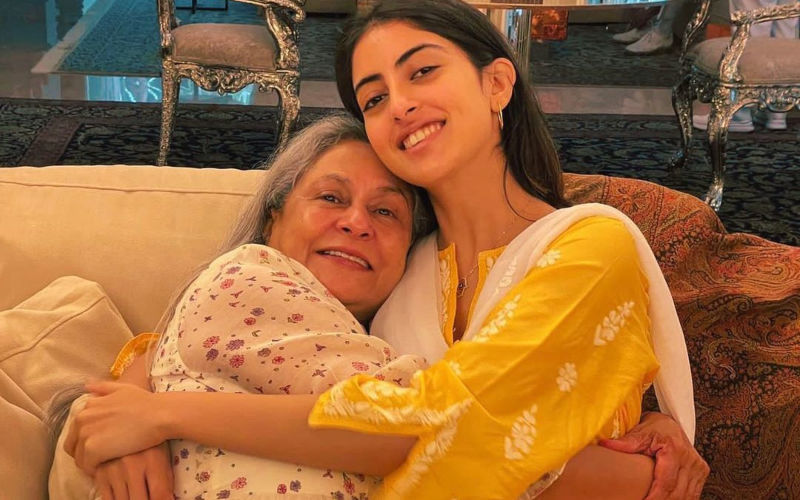 Entrepreneur Navya Naveli Nanda has been making headlines for her ongoing podcast What The Hell Navya alongside her mother Shweta Nanda and grandmother Jaya Bachchan. Through the podcast, the young star is often seen talking about topics relating to women's health and hygiene. In one such episode, the veteran actress shared that she would not have a problem if Navya conceived kids out of wedlock. This statement of hers caused quite a stir in the media.
Now, in an interaction with NDTV, Navya has opened up about her grandmother's views on modern dating and having kids. She shared that creating a comfortable environment for women to express themselves was the main point of the show. She said, "I think the whole point of this podcast was to create a safe space for women and I think we were able to do that, I felt confident enough and comfortable enough to talk to them about anything like relationships, friendships." ALSO READ: Jaya Bachchan Reveals She Has 'NO PROBLEM' With Granddaughter Navya Naveli Nanda Bearing A Child Without Marriage!
She further went on to explain that the women of India need a safe space so that they don't feel uncomfortable talking about their experiences regarding their health and hygiene. She also shared that, being in an era that is easily influenced by social media, people agreeing or disagreeing with one's opinion is a given. She shared, "I think when you are putting yourself out there, whether it be a podcast or work and all of us are on social media so everybody is watching you, I think that when you are putting yourself out there, you have to understand that something that you are sharing with the world, your opinions, people may agree, people may disagree, but I think that the purity and motivation behind this podcast have really nice fun intelligent conversations and I think we were able to do that." ALSO READ: Amitabh Bachchan's Granddaughter Navya Naveli Nanda Says Discussing Menstruation In Presence Of Her Grandfather 'Is A Sign Of Progress'
She concluded the interview by saying that she is grateful for the love and support she has received for the show.
For the unversed, Navya Naveli Nanda is a graduate from New York's Fordham University. She is the co-owner of Aara Health, an online platform that discusses health issues. She is the granddaughter of veteran actors Amitabh Bachchan and Jaya Bachchan. Her brother, Agastya Nanda, is all set to join the industry with Zoya Akhtar's The Archies.
Image Source: Instagram