Sounding visibly shattered, Neha Kakkar refuses to be drawn into a conversation on her alleged breakup with Himansh Kohli. It all started with the duo unfollowing each other on social media and the popular singer deleting most of his posts from her Instagram page. That instantly left tongues wagging and gossipmongers discussing that they had gone separate ways.
So, SpotboyE.com decided to get in touch with Neha to know about the
current status on her relationship with Himansh Kohli.
Refusing to even acknowledge him, she shot back, "Which Himansh? I don't know any Himansh." When prodded further, she replied, "Leave me alone please!" That was it. The wounds have clearly not healed, in fact far from it.
Neha refusing to even acknowledge his presence or identity reiterates the fact that they've had a bitter breakup and she's in no mood to talk about him at the moment. This morning also we called her, she told us that she will call back but the call never came.


Recently, Neha shared a series of heart-wrenching notes on Instagram, by writing, "Mujhe nahin pata tha iss duniye mein itne burey log bhi hote hain. Khair.. sab kuch gawaa ke hosh mein ab aaye, toh kya kiya..." and "I know I'm a celeb..I'm not supposed to write all this.. but I'm human being too.. and aaj kuch zyaada hi toot gayi, isliye couldn't control my feelings"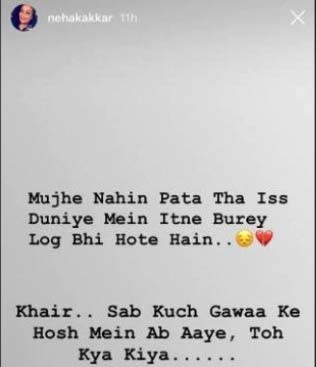 "I know now everybody's gonna talk about it now.. People are gonna judge me.. pata nahin log kya bolenge.. some people are gonna say things which I haven't even done but koi nahin.. mujhe aadat ho gayi hai sab snne ki.. sab sehne ki". And this came about, soon after she broke down over an emotional love song in Indian Idol 10.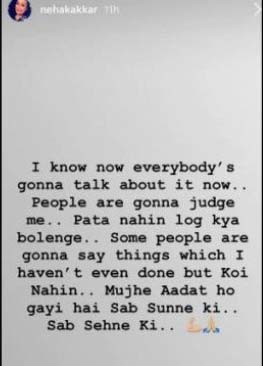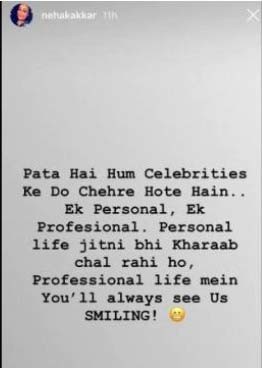 Calls to Himansh Kohli however failed to evoke any response.


Image Source:mp3gym.com,catchnews.com