Neil Nitin Mukesh On Living In A Joint Family Again: 'I Have Never Been Happier Than When I See My Daughter With Her Grandparents'-EXCLUSIVE
Neil Nitin Mukesh, who moved to his new home with his whole family last year amidst the pandemic, talks about how it has been living in a joint family again after living separately for about five years.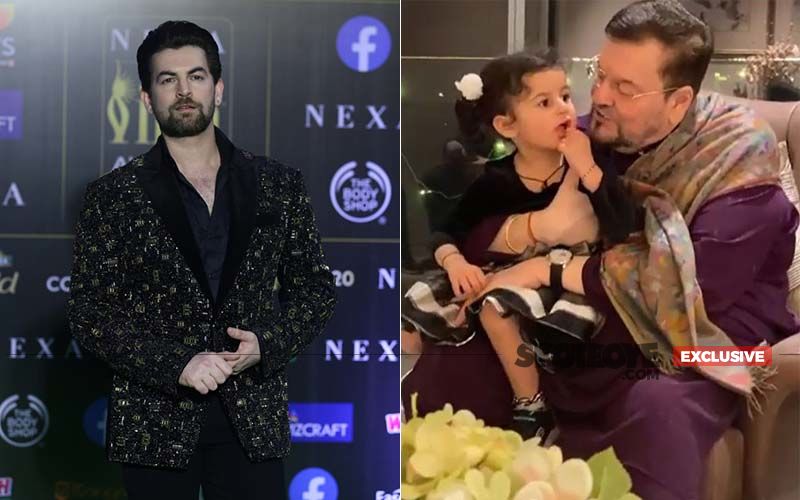 Neil Nitin Mukesh had always been a family man, extremely close to his parents and siblings. But for about five years, the actor lived in a nuclear family with his wife Rukmini in Andheri, where they also welcomed their daughter Nurvi, while his parents lived in their family home on Napean Sea Road. However last year, the whole family came together amidst the pandemic to live as a joint family in their new home in Lower Parel. It has now been over a year for them living together, and now the family won't have it any other way.
Ask Neil how it has been living with his father Nitin Mukesh and mother Nishi Mukesh again, and he is all smiles. "We used to stay separately but this pandemic has taught us a lot. We were separated for a long time and my father was really low and upset that he was away from Nurvi especially. As a son, it's important for me to understand that at this age, even they need to be looked after. There is no bigger support system than being with family. So, we are very happy together and there is no intrusion of space. We feel blessed and happy to be together," he insists.
The actor says that living with family is an Indian tradition and he didn't want to stay away from that. "Being together is in the roots of Indian tradition and culture and somehow I never understand the western culture of leaving the house after a certain age. I believe that when your parents get older, they become like kids and it's important for you to take care of them. They need you at that point, no matter how independent you become. And I have never been happier than when I see my daughter with her grandparents. If I hadn't done that, I would have denied her the privilege of knowing her grandparents and I would have also denied my parents to witness these growing years of Nurvi and how could I do that," he asks.
Neil insists that there is no greater joy for him than to see his daughter spending time with her grandparents. "Today, Nurvi sits with my mother for puja both times in the day, she does aarti and learns all the traditions and culture at this young age. She knows Ganesh aarti and Lakshmi puja by heart now. She also sits with my dad every day for riyaaz. She is so attached to them that if she is with them and I go to her to ask her to come to sleep, she says no. And her dadu is also mad about her. He says that the best thing to have happened to him is to have Nurvi around," he gushes.
The whole Mukesh family has been close-knit for generations and Neil maintains that that's where he also learnt it from. "I have always been a family-oriented boy myself. I have always grown up with a close family and we have always been together. Even our extended family was in the same building. So, we have grown up wanting to be around family. Our first friends are our family members. Even if we don't meet our friends for a while, we don't feel the lack of it as the vibe at home is as such that either we are always playing something or singing together. And I didn't want to deny that environment to Nurvi or to myself. I didn't want to change our traditions. There are two extreme generations at home now, a three-year-old and a 72-year-old. They are both like kids and they need to be together. I am more of a mediator between them, fulfilling demands of both the generations," he signs off with a chuckle.
Image Source: SpotboyE Archives, Instagram/neilnitinmukesh