No Madhuri Or Janhvi In Sridevi Biopic: "I Have No Such Plans," Says Boney Kapoor
Here's the TRUTH. Boney Kapoor has no inclination to make a biopic on Sridevi. The producer rubbishes the story floating since morning, which also floats Madhuri or Janhvi to be the apt choice for the legendary actress' part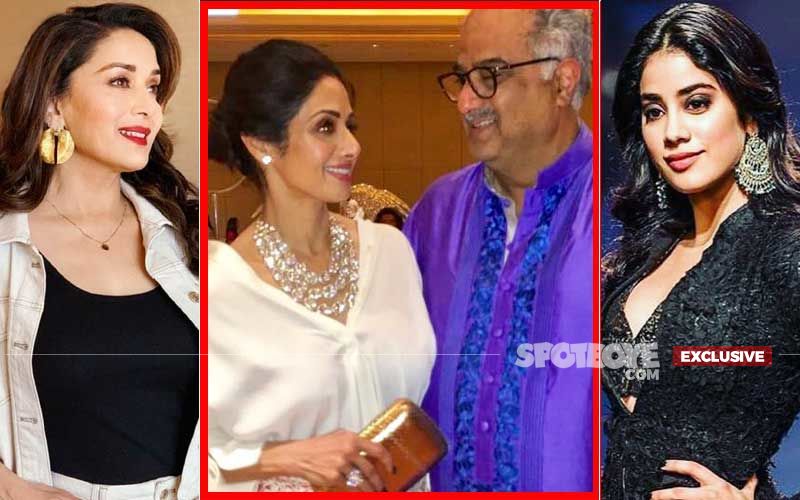 Boney Kapoor
is rattled and this is the last thing he wanted just one day after
the first death anniversary of his wife Sridevi.
The producer woke up this morning to read that he is planning to make a biopic on Sridevi and if all goes well,
Madhuri Dixit
will essay as
Sridevi.
The report is based on the figment of a source's imagination who says, "Madhuri is the only choice available to Bonery if Sridevi's grace, stature, range and dancing abilities are to be matched."
The source further says that, "Sridevi would have never wanted a biopic on her to be made." Now this means that Boney is going against his late wife's wishes. The source whose imagination is indeed extremely fertile further says that "If at all Sridevi wanted a biopic on her, she would have wanted to see
Janhvi
playing her." And this means that Boney should ask Janhvi to get into her mother's shoes.
All said and done, the source is perhaps someone from Boney's camp who has no idea of what Boney wants and does not want. Also, the source has no idea what Sridevi wanted and did not want.
The long and short of what we are saying here is that Boney has absolutely no plans of making a biopic on Sridevi and therefore the source's apparent wishful thinking of propagating Madhuri's name into Boney's ears for Sridevi's part, falls flat on its face.
As they say, some stories go up in smoke because they are based on falsehood. That Boney is planning a biopic on Sridevi and Madhuri is the best available option to don the late legend's role, was definitely one such. But now, we hope it stands dusted.



Image Source: Instagram/janhvikapoor,madhuridixitnene,sridevi.kapoor