The prison scene in Ranbir Kapoor starrer Sanju made headlines when the trailer came out. A few weeks back, a complaint was filed by Prithvi Mhaske of Sangharsh Foundation against the makers over the 'toilet leakage' scene in the trailer. Now as per the latest reports, Sanju, which was shown to CBFC last week, has been cleared with just one cut and that's toilet scene in prison. Reports say, the makers have been indicated to remove the scene with an overflowing prison toilet for aesthetic reasons.
A source from the Censor Board told Mid-Day, "The scene wasn't adding value to the narrative besides displaying the helpless situation of the protagonist. It was a judgment call taken from an artistic point of view which the filmmakers agreed to."
The complainant Prithvi Mhaske of Sangharsh Foundation had claimed that the scene will make show the jail authorities in the bad light. The letter, which was addressed to Prasoon Joshi (CBFC Chairman), Ranbir Kapoor and Rajkumar Hirani, had stated, "In the trailer of the movie we have seen a scene that Sanjay Dutt was in such a barrack of a jail in which the toilet overflowed. As per the information available, the government and jail authorities are taking a very well care of all the barracks of the jails. We never heard any such incidents anywhere. Earlier as well many movies were released based on the gangsters wherein the jails were covered but never had seen such incidents."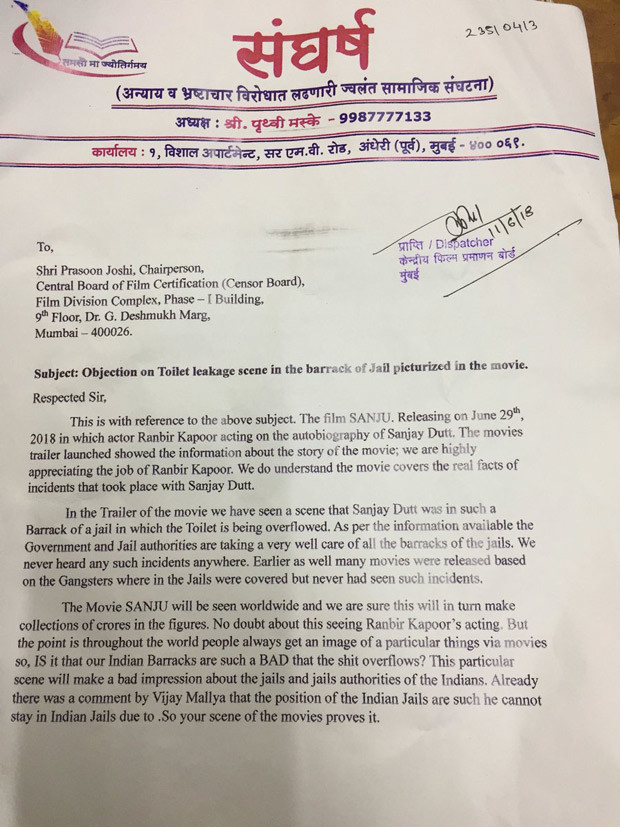 As far as the makers are concerned there is no official statement on the cut as of now.