At
8:15 pm
today, SpotboyE.com took a stand against the Twitteratis who are deriving a sadistic pleasure by putting forth their opinion (?) that Kareena Kapoor and Saif Ali Khan should not have named their son 'Taimur'. (
Reason? Simply because Taimur reminds them of the cruel despot king Timur.
For Pete's sake guys, you need a life.
To begin with... but why to begin with? Haven't we said what we wanted to in our strongly worded article whatever we had to say?
So, what does Rishi Kapoor have to say?
Let's take a look at his tweets:
Why are the people so bothered what the parents want to name their child please? Mind your business, it's got nothing to do with you. Parents wish!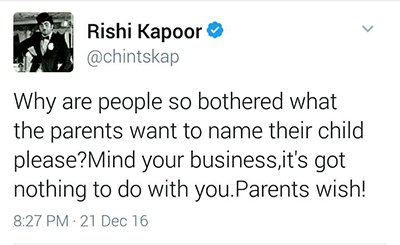 You mind your bloody business.Tumhare beta ka naam tho naheen rakha na? Who are you to comment?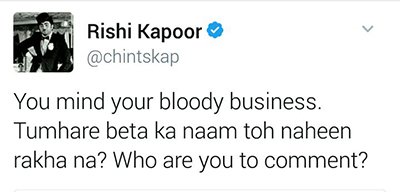 You mind your f***n business what my ancestors must be feeling. Apna kaam karo