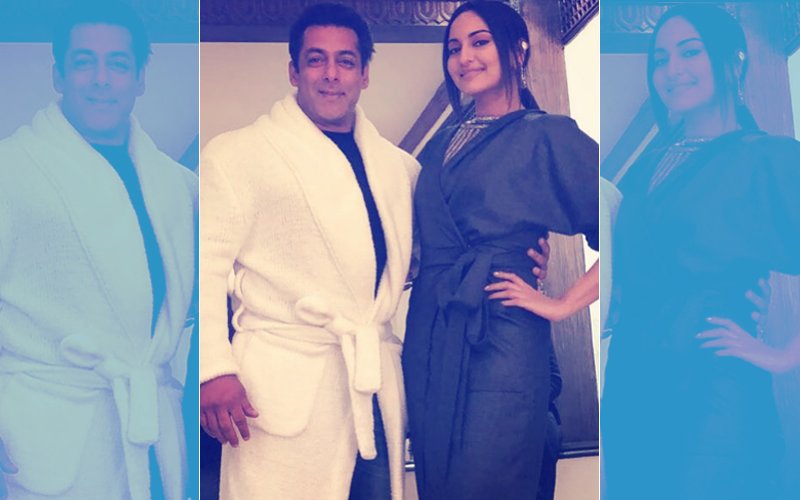 Sonakshi captioned the pic as: "Going gray for the @dabanggtournewdelhi presscon today! Styled by @mohitrai (tap for deets) beauty by @mehakoberoi and hair by @themadhurinakhale ️ #sonastylefile #dabanggtournewdelhi (sic)."

Designer Mohit Rai also posted pics of Sona and captioned it as: "Bomb-girl @aslisona in the hottest new designers @nikitadmhaisalkar @anomalybyanam and @oceedeeshoes for #dabanggtour2017 presscon in Delhi! Assisted by @vedhikaghotge and @harshitadaga01 #MRStyles #teammrstyles #sonakshisinha (sic)."
He also posted another pic of her look and captioned it as: "Bionic Pocahontas with @aslisona! @mehakoberoi @themadhurinakhale @vedhikaghotge @harshitadaga01 #MRStyles #teammrstyles #sonakshisinha (sic)."

Now, Salman being the funny man that he is, he took a jibe at the outfit by comparing it to a bathrobe. Not just that, Salman even went ahead to wear a bathrobe himself and got a picture clicked with Sonakshi, wearing it. Sonakshi shared that pic on social media with the caption: "He loved my outfit so much he tried to copy it who wore it better?!?!? Ahahahahahahahahaha @beingsalmankhan #fashionfaceoff #twinning #dabanggduo #chulbulandrajjo (sic)."
Salman definitely has the power to leave us all in splits with his unique style of humour.

Sonakshi went ahead to post a video from the practice sessions of the Da-bangg tour. She captioned the video as: "Oh iske dab mein bhi dum haiiiiii... rehearsals for the @dabanggtournewdelhi! I'm all set... and you?!? See you TONIGHT DILLI!!! (sic)."


Image Source: instagram/aslisona/mohitrai