Panipat: Protesters Vandalize A Theatre In Jaipur; Claim Wrong Portrayal Of Maharaja Surajmal In The Film
As the film Panipat released this Friday, the makers of the film are facing a lot of problems as protesters vandalize a theatre in Jaipur as they claim the filmmaker has wrongly portrayed Maharaja Surajmal in the Arjun Kapoor-Kriti Sanon starrer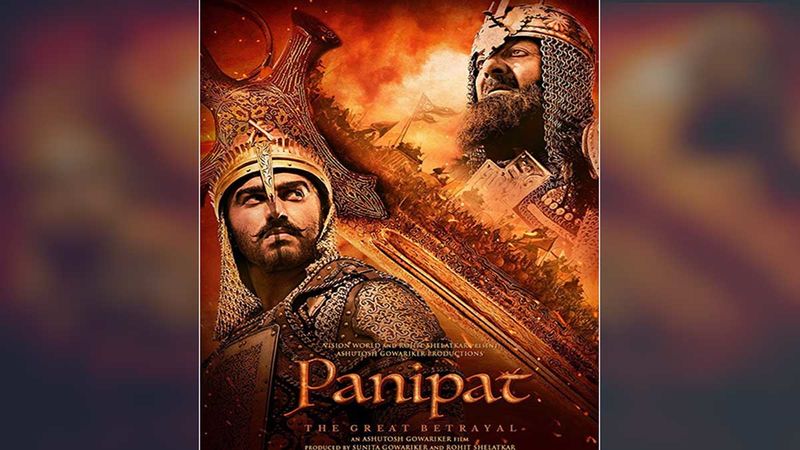 Arjun Kapoor
, Kriti Sanon, and Sanjay Dutt starrer Panipat released this Friday on a good note. The film was well-received by the critics and received a lot of positive responses. After being a hit with the audiences as well, the Ashutosh Gowariker period drama has landed up in trouble. The makers of the film are facing a lot of problems as protesters vandalize a theatre in Jaipur as they claim that the filmmaker has wrongly portrayed Maharaja Surajmal in the Arjun Kapoor starrer.
The film Panipat is based on the Third battle Panipat which was fought by the Maratha Army against forces of Ahmad Shah Abdali, the then King of Afghanistan. As the film released this Friday, upon watching the film, the people of Rajasthan and the Jat community in the country are deeply saddened by the portrayal of Maharaja Surajmal in the film. According to ANI reports, protestors have vandalized a cinema hall in Jaipur, Rajasthan claiming that the portrayal of Maharaja Surajmal in the film 'Panipat' is wrong and has hurt sentiments of the Jat community. Also Read:
Arjun Kapoor On Going Bald For Panipat: 'I Felt Really Comfortable And It Was Therapeutic'- EXCLUSIVE
Rajasthan: Protesters vandalised a theatre in Jaipur alleging that Maharaja Surajmal has been wrongly portrait in the movie 'Panipat' and the movie has hurt sentiments of Jat community. pic.twitter.com/lFUnD0R51h

— ANI (@ANI) December 9, 2019
Maharaja Surajmal has a brief role in the Battle of Panipat, the protestors are upset about the scene in the film when Sadashiv seeks the support of Maratha ally Maharaja Surajmal in Rajasthan, in the fight against Ahmad Shah Abdali, the Maharaja is portrayed to negotiate a stiff deal with Sadashiv. When Sadashiv disagrees to the terms, Maharaja Surajmal denies support in the battle.
पानीपत नामक फ़िल्म में अजय योद्धा महाराजा सूरजमल का जो चित्रण किया गया है वो घोर निंदनीय है ।
मेरा फ़िल्मकारों से निवेदन है व्यावसायिक फ़ायदे के लिए ऐतिहासिक तथ्यों से छेड़ ना हों ना ही समाज को बाँटा जाए ।

जय हिंद, वन्दे मातरम #boycottpanipat

— Dadi Chandro Tomar (@realshooterdadi) December 8, 2019
While the portrayal of the character of Jat Maharaja Surajmal has been grabbing eyeballs, about yesterday, even Shooter Dadi, Chandra Tomar took to Twitter to express her feelings about the portrayal of Maharaja Surajmal in the film. Check the tweet below:
Meanwhile, Panipat released on December 6, 2019, and clashed at the Box-Office with Mudassar Aziz film Pati Patni Aur Woh starring Kartik Aaryan, Bhumi Pednekar, and Ananya Panday.
Image source: Instagram/ Arjun Kapoor