The news of singer Papon allegedly forcefully kissing a minor girl on the reality show The Voice India Kids has left everyone shocked.
The news and the video where Papon is seen kissing the girl has gone viral as Runa Bhayan, a Supreme Court lawyer has filed a complaint against the singer with the National Commission for Protection of Child Rights (POCSO).

While a few are condemning the act, singer and Papon's friend, Shaan came out in his support. He took to Twitter to defend Papon BUT the surprising thing was that moments later, Shaan deleted the tweet.
Here's what he had written, "My stand is on assumption that it was actually a wrong angle and the Kiss was not on the lips.. I've known Papon to be extremely affectionate person and not a 'pervert' as being accussed.. of course Law of the Land must take its course (sic)".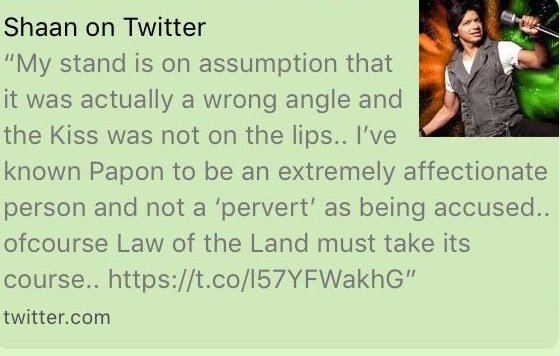 It is rather strange seeing Shaan support the Moh Moh Ke Dhaage singer. Probably the singer felt he will get condemned too for supporting Papon, and that's why deleted the tweet.





For those coming late, a video on Papon's Facebook timeline showed him celebrating Holi with the contestants of The Voice India Kids, a show which the singer judges. He is seen applying gulal to one of the female contestants and then he kisses her, allegedly by force. The girl looks uncomfortable as Papon forcefully tries to kiss her on the lips.

Last evening, Papon in his defence wrote an open letter claiming that he feels blamed for no fault of his.


Image Source: instagram/papon