Parineeti Chopra's Clarification Is A Bigger Blunder Than Her "Sob Stories"
After Parineeti Chopra's school friend lambasted her for lying about struggling in childhood, the actress has now issued a clarification and we are far from convinced. In fact, her post forces us to believe that the friend is telling the truth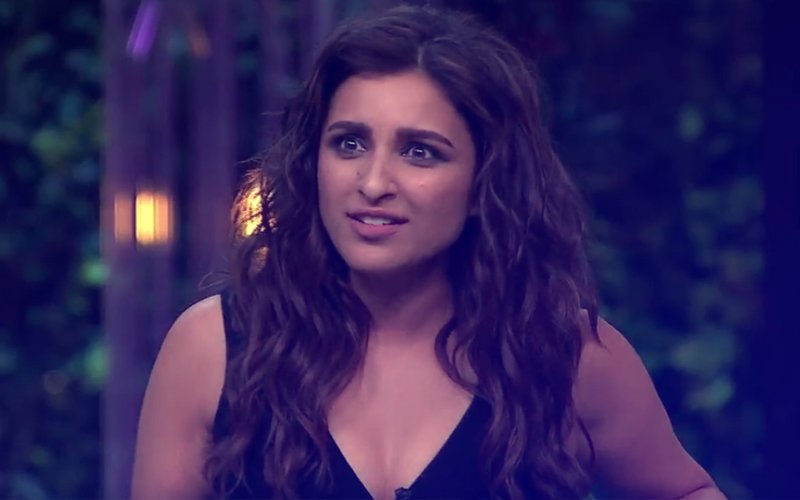 Parineeti Chopra
is falling further into the ditch she created herself. Ever since the actress' school friend, Kkanoo Gupta, lashed out at her for lying about her "difficult" childhood, netizens are having a field day trolling Parineeti.
The Meri Pyaari Bindu actress took to social media some time ago to clarify her statements. However, we aren't convinced by the explanation.
Here's what her statement said:
Hi everyone,

I think what I said at the martial arts event a few days ago has been misconstrued in some places, so I would like to take a moment and clarify what I meant.

As long as I was in school in Ambala my brothers and I did not have access to a car and driver to take us to school, so they took the bus and I cycled. My dad followed close behind me to ensure I reached school safely. My dad did have a car which he used for his office work but we kids did not use it for school travel. As a child I hated going on a cycle! But today I understand that he was doing it to make me independent and keep me safe.

I know I said this even that day but somehow it's misconstrued, about something very irrelevant about me having a car or not!! I was talking about using a car and driver to go to school thats all. The essence of what and why I was giving that example was completely lost.

I am proud to be present at a time that girls are becoming stronger with training in martial arts. If I had had such an opportunity back then, I know I would have felt much more confident!

I am responding now as I was travelling out of the country all this while. I would request everyone concerned to please not let menial things like this take precedence over what I was actually trying to say, about women's safety and the challenges that we girls face while growing up.

Thank you!
Firstly, Parineeti, students do not possess cars. It's always their parents' car which they refer to as their car. So, you saying that your dad had a car while in school and not you is preposterous.
Also, clearly your dad had a car, you a cycle and your brothers had enough money to take the bus. This does not make you poor. In fact, in cities like Ambala, you will be considered well-to-do.
Lastly, Kkanoo posted the statement on May 23. What took you so long to reply? Even if you were travelling, you were tagged and were online posting pictures on social media. Hence, if you thought Kkanoo was spreading lies, you could have lambasted him.
Twitter detox. See you soon 🏝

— BINDU (@ParineetiChopra) May 26, 2017
For those who've come in late, here's what Parineeti said at a recent event for promotion of martial arts among girls: "I am so touched after coming here as I am thinking about my life. I am from a very small city, Ambala. I had two brothers growing up and we had a lot of difficulties. We didn't have any money, so I used to travel by cycle, to school. We did not have a car, or even money for the bus. I used to fight with my mom and dad saying why do I have to cycle to school every day. I did not have the money to join a martial arts class during the time. I am so happy for you that you got this opportunity. Thank yourselves that you are graduating from such an institute. Make use of this knowledge and go kick some ass."
Her school friend Kkanoo Gupta went on Facebook to expose this lie by saying
, "Parineeti Chopra Shame........ coming from a privileged background and lying through the teeth in front of camera. I guess this is what being a celebrity means. Create a fabricated sob story of no money no car etc etc. Coming from the same school I probably also remember the car her father used to have. And going to school on a cycle was a trend those days and also a privilege not every one had. My friends from CJM would probably understand the lies a bit better. SIC (sic)."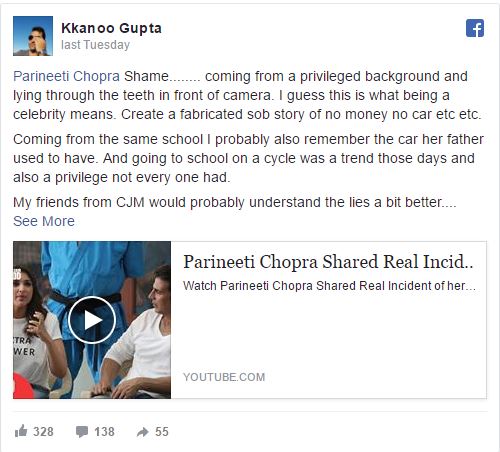 Parineeti Chopra Busted By Friend For Lying
What do you think folks, does Parineeti's post seem forced or not? Shoot your thoughts in the 'Comments' section below
Thumbnail Image Source: movified