Pooja Batra Posing With Her New Mean Machine Even Before It's India Launch, Makes Us Green With Envy
Actress Pooja Batra is making us all jealous as she poses with her brand new car which is yet to be launched in India. The actress sporting red top and grey bottoms, posed by her car on her Instagram handle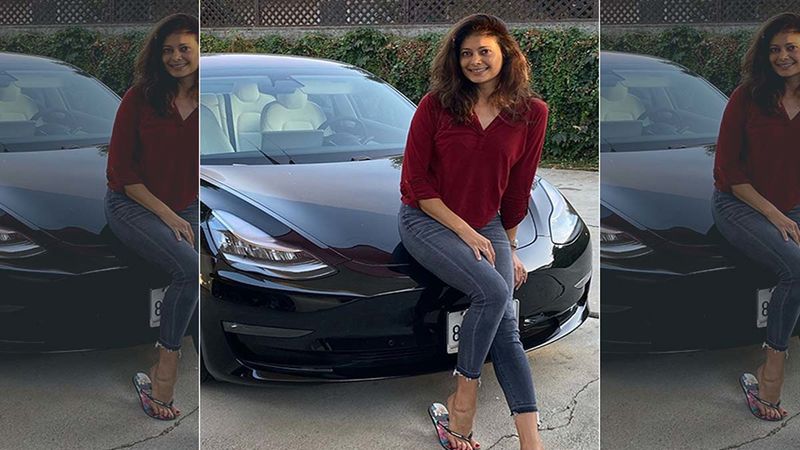 Bollywood actress Pooja Batra seems to be enjoying her happily ever after phase, post her wedlock with Nawab Shah. And surprises are just showering in her life, the actress has got her hands on the mean machine and we are all green with envy. The actress taking to her official Instagram account made her all jealous as she posed with sparkling brand new car Tesla Model 3, an electric car yet to be launched in India. With a bright smile on her face from ear to ear, we can measure the actress's happiness.
Posing in grey jeans and maroon top, she wrote in her Instagram caption, "Love my car @teslamotors #nocarbonfootprint #tesla3." We would like to ask is this a gift from your darling hubby??? Also, the manufacturer of this car is possibly launching its Model 3 in India sometime soon, hence actress might have bought it from California.
Pooja secretly tied the knot with Nawab Shah
this year and announced of taking the plunge on her social media handle. Followed by a
series of wedding pictures,
flooding her Instagram handle.
In an interview with HT, Nawab had said, "I proposed to her in front of my family. It wasn't planned at all and it just happened. It was overwhelming for the two of us. When you know he or she is the right person, you are excited and motivated to live life."
He further added, "I keep telling her that we have less time as we have to grow together and also have babies. We need to travel, we both love reading and writing, and as we say, 'Zindagi chotti hai' so why not do things that we like."
Image Source: Instagram/poojabatra