Akshay Kumar and Bhumi Pednekar starrer Toilet- Ek Prem Katha's trailer released on Sunday evening and soon the praise started pouring in, from the public and the superstar's Bollywood peers.
Now, Toilet- Ek Prem Katha's trailer has got a glowing recommendation from none other than Prime Minister Narendra Modi. He retweeted a link to the trailer a few minutes ago.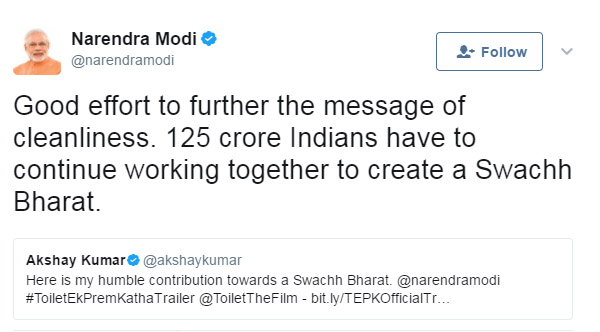 Narendra Modi Praises Toilet- Ek Prem Katha

Retweeting Akshay's tweet with the trailer, the PM wrote: "Good effort to further the message of cleanliness. 125 crore Indians have to continue working together to create a Swachh Bharat (sic)."
And then Akshay replied to the PM, thanking him for his support.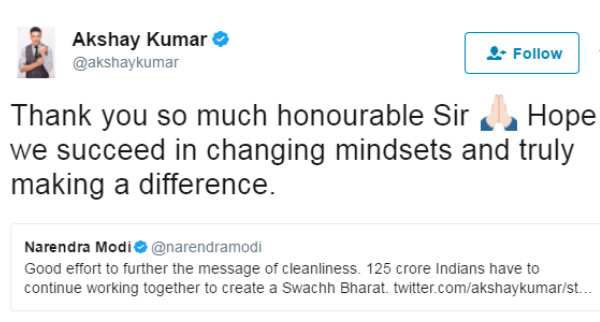 Akshay Kumar Replying Back To Narendra Modi

Toilet – Ek Prem Katha trailer
was unveiled during the mid-innings show of the India V/s South Africa Champions Trophy match yesterday.
The trailer offers a good mix of romance, social relevance and laughs.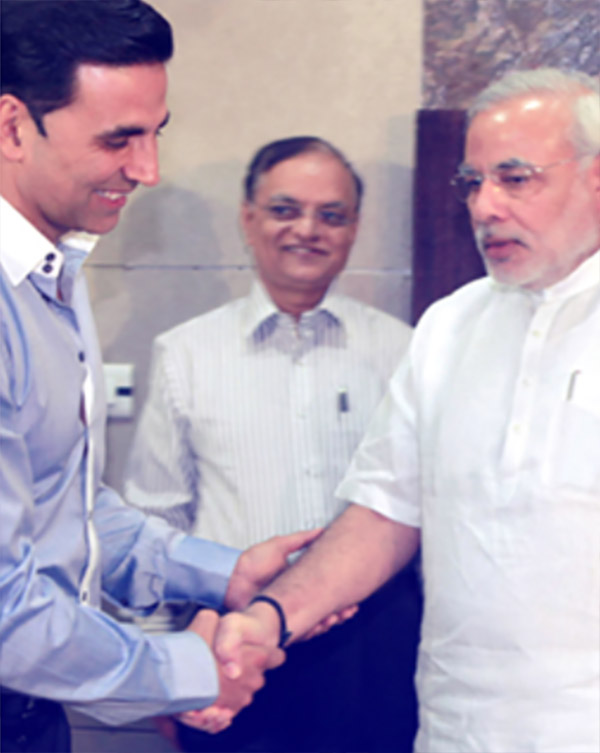 Akshay Kumar Meets Narendra Modi

The film is set in rural India and the trailer introduces us to Akshay Kumar's character, a man who will do anything to find himself a wife, even marry a buffalo to ward off the ill effects of his kundli. Bhumi is a feisty small town girl and they fall in love and get married. But soon she realises that her husband's home does not have a toilet.
Their love story hits a roadblock when Bhumi refuses to perform her morning ablutions in the open and demands a toilet. What follows is a revolution of sorts with Akshay and Bhumi leading it.
Getting back to Narendra Modi,
Akshay had earlier met the PM
to discuss the film which revolves around the Swachh Bharat Abhiyan, which is his passion project.
Thumbnail Image Source: sify