Prithviraj Kapoor, Amitabh Bachchan, Mumtaz And Others; 12 Biggest Crossover Personalities Of Hindi Cinema
Some great cinema artists in India have made history by achieving their own crossover from one self-limiting sphere to another thereby changing the way we look at our movies. Here's looking at the biggest crossover personalities of Hindi cinema!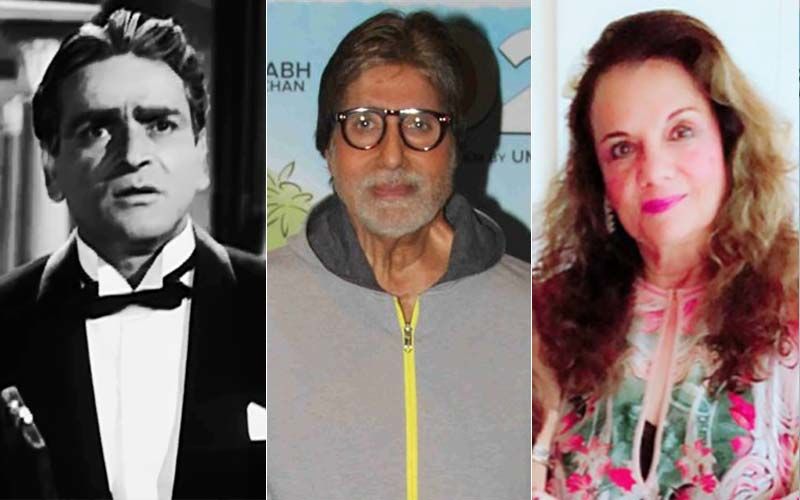 Crossover Cinema is one of the most abused terms in the entertainment domain. If it means you take a film from India and shove it down the Westerners' throats then sorry, we are far from making cinema that is digestible to foreigners. However great cinema artistes in India have made history by achieving their own crossover from one insulted self-limiting sphere to another thereby changing the way we look at our movies. Here's celebrating the crossover icons.
1. From the Silent Era to the Talkies: Prithviraj Kapoor: In the celebrated Oscar-winning film The Artiste we see what the spoken word did to actors from Silent Era. Only Charlie Chaplin in the West could make that crossover. In India superstars of the silent era like Ruby Myers, Fearless Nadia, Sohrab Modi, Zubeida and Patience Cooper faded away when the talkies took over the motion-picture experience. Only the mighty Privthiraj Kapoor could make the transition successfully. The sound of his Mughal baritone still reverberates across the film industry as his great-grandson Ranbir Kapoor serenades celluloid.
2. From Hero To Hero's Father To Hero's Grandfather And Yet Getting Top Billing: Ashok Kumar: India's first superstar, he first played the romantic lead in the 1930s,40s, 50s. Then in the 1960s he crossed over to 'character' roles and still continued simultaneously play the lead in films like Hrishikesh Mukherjee's Aashirwad. Right till the end when he played grandfather's roles in the 1990s Ashok Kumar got top billing in the credit titles.
3. From Vamp To Heroine: Mumtaz: Many before and after her have tried to crossover from supporting roles to the lead. Only Mumtaz made the transition from playing the vamp and the second-lead in Patthar Ke Sanam, Bramhachari and Aadmi Aur Insaan, to playing the lead in a string of blockbusters in the 1970s. When Mumtaz gave up superstardom in 1974 for marriage she was at the very top.
4. From Villain To Hero: Vinod Khanna: He played the sleazy leery bad-guy in a string of films in the early 1970s and then moved to being a very successful and accomplished leading man on distinguished films like Gulzar's Achanak ,Aruna-Vikas' Shaque and Madan Sinha's Imtihaan. And then Vinod gave up the chance of superstardom to plant saplings for Acharya Rajneessh's garden in Oregon. Miraculously he made a comeback with Satyamev Jayate.
5 From Marriage Motherhood To A Successful Comeback: Dimple Kapadia: At 15 she was the rage of the nation in Bobby. At 16 she was married to the biggest superstar of the country Rajesh Khanna. At 19 after two children Dimple's marriage was over. When she made a comeback with Sagar, Drishti, Rudaali and Kaash she proved all the naysayers wrong.No actress has made a comeback as successfully as Dimple.
6. From eeew to wow: Rekha: Every actress works on improving her looks, physique, voice and personality. Rekha did much more. She completely transformed herself to the extent that if we look at her early pictures we wouldn't be able to recognize her as being the same immaculate diva who gives to Kanjeevaram silk an entirely new definition.
7. From Abuse to Applause: Shatrughan Sinha: Pran was the biggest villain of his times. Even he didn't get applauded when he roughed up the hero. Shatrughan Sinha did just that. Playing the arch-villain he kind of twisted around cinematic morality. For the first time, audiences clapped and cheered when the bad-guy walloped the hero.No wonder heroes shied away from working with him. Shatruji very proudly says, 'With due respects to Pran Saab I'm the only villain who got applause for beating up the hero.'Today Vidyut Jamwal has made the same crossover.
8. From Music Director To Director: Vishal Bharadwaj: He came to Mumbai to compose music in films, did a good job of it in Maachis and Satya and then found his true métier as a filmmaker. Will the real Vishal please stand up?
9. From Filmmaker To Leading Man: Farhan Akhar: Of course Guru Dutt did it before him. He made the transition from direction to acting. But Guru Dutt was predominantly a filmmaker who slipped into screenplays that he knew by heart(in more ways than one). Pyaasa for instance was written for Dilip Kumar. Farhan is the first truly successful director in Bollywood to become a major star . Pataa nahin Farhan ka dil kya chahta hai. Jo bhi ho, Rock On , Farhan. Abb toh Toofan aane wali hai,
10. From Angry Young Man To 70-plus Superstar: Amitabh Bachchan.Bollywood's first and only 60-plus superstar. Need we say more?
11. From Madhubala to Mala and Vyjanthimala to Hema and Rekha, to Zeenat and Rati to Karisma and Tabu to Kareena & Preity...Lata Mangeshkar has crossed over into 6 generations of playback singing.
12. From Foreigner To Bollywood Diva: Half-British Katrina Kaif who couldn't speak a word of Hindi when she arrived in Mumbai is today the reigning queen of Bollywood. Katrina is an inspiration not only for aspiring actresses from the world over, but also the epitome of aspirational beauty in the anthological film Bombay Talkies. Take a bow, Ms Kaif.Aapki success-story Subhan Allah.Aapki Hindi? Oh, well
Image source: SpotboyE archive/Instagram/tanyamadhvani/ Wikipedia