Priyanka Chopra & Nick Jonas' Ex-Girlfriend Have Something In Common. Oh Look!
Nick Jonas' fiancé and his ex-girlfriend Olivia Culpo have something in common. What is it? Well, its their love for the same clothing brand. Pictures of Priyanka and Olivia Culpo wearing the same (well, kind of) Fendi bustier are doing the rounds on social media. Check them out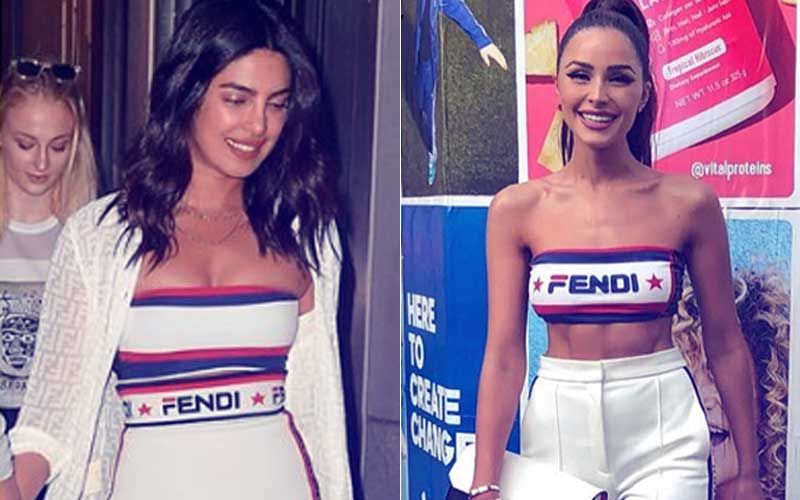 A few days back, Priyanka Chopra's fiancé Nick Jonas' ex-girlfriend Olivia Culpo opened up about her former beau's engagement. Nick and Priyanka got engaged in a close-knit ceremony in Mumbai, last month. The pop singer, who dated 2012 Miss Universe Olivia for two years, broke-up with her in 2015. While speaking to People magazine the former Miss Universe said, "I think that any time anybody can find love, especially in this industry - because it's difficult. You can see there's a track record of things not working out. So, I'm so happy for him."
Seems like, the actress is so happy with her former boyfriend's new alliance, that she doesn't even mind stepping out wearing something very similar, that his current ladylove PeeCee, sported recently. A few days back, we brought to you the pictures from Priyanka and Nick's double date with latter's brother, Joe Jonas and his fiancé Sophie Turner. The two sets of lovebirds were spotted watching Serena Williams quarterfinal game at the US Open. The newly engaged couple was accompanied by Madhu Chopra and hundreds of pictures from the quarterfinal made their way to social media.
On Tuesday night, Priyanka sported a two-piece Fendi top and straight fit knee-length skit paired with a white shrug. While on Thursday, Culpo too was spotted wearing a Fendi tube top paired white flared pants. Olivia completed her look in red strappy heels and a sleek ponytail.
Check out their near identical Fendi tops:
Talking about their matching dresses, Nick Jonas' current (Priyanka) and ex-flame (Olivia) pulled off the chic look perfectly. But who do you think wore it better?



Images Source: instagram/stylishflychick/priyankachopranetwork