Pulwama Terror Attack: Priyanka Chopra, Alia Bhatt, Ranveer Singh, Anushka Sharma, Salman Khan, Akshay Kumar Mourn The Death Of Indian Soldiers
Bollywood celebrities like Salman Khan, Akshay Kumar, Priyanka Chopra, Vicky Kaushal, Anushka Sharma among others have taken to Twitter to condemn the Pulwama Terror Attack that killed 44 CRPF Jawans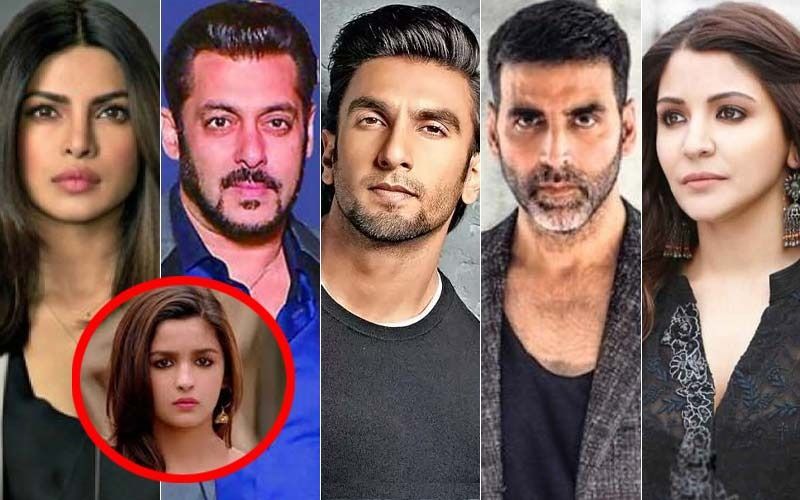 February 14, was a black day for India as we lost our Army jawans in a terror attack in J&K's Pulwama district. Reportedly, 44 jawans of the Central Reserve Police Force (CRPF) were killed as terrorists blew up a CRPF bus.
As the entire nation grieves the lost lives, Bollywood actors like Akshay Kumar, Priyanka Chopra, Salman Khan, Anushka Sharma and many more have taken to social media to express their anger.
Condemning the attack, Salman Khan said, "My heart goes out for the Jawans of our beloved country and their families who lost their lives as martyrs to save our families... #YouStandForIndia"

Alia Bhatt wrote, "The Pulwama attack is despicable. My heartfelt condolences to the families of the martyrs. I pray for the recovery of the injured."
Riteish Deshmukh tweeted, "Absolutely tragic news coming from Pulwama - Condolences to the families of the martyrs- & prayers for the injured jawans. Cowards are at it again. Absolutely deplorable. pulwama terror attack".
Ranveer Singh tweeted, "Disgusted at the cowardly terror attack on the #CRPF soldiers in #Pulwama - my sincere condolences to the families of our brave jawans. Saddened. Angry."
Akshay Kumar wrote in his tweet, "Numb beyond belief at the dastardly terror attack on #CRPF soldiers in #Pulwama. May God give peace to their souls, and strength to their grieving families. Wishing the injured a speedy recovery. We can't let this be forgotten."
Priyanka Chopra said, "Absolutely shocked by the attack in #Pulwama...Hate is NEVER the answer!!! Strength to the families of the martyred jawans and the CRPF soldiers injured in the attack."
Uri actor Vicky Kaushal wrote, "Deeply saddened and shocked to hear the news of the terror attack in #Pulwama. My heart goes out to the families of the brave CRPF soldiers we lost today and praying for the speedy recovery of those injured."
Swara Bhasker expressed, "Shameful! Tragic & shocking. Jaish-e-Mohammed has brazenly & shamelessly claimed responsibility. These monsters have no soul, no humanity. Pure evil! Why does this terrorist group have safe haven in Pakistan? Imran Khan RIP our brave soldiers, strength to bereaved families."
The Veere Di Wedding actress also wrote, "Watching Indian TV channels (barring a few) this evening was SICKENING! Agenda driven hashtags & stupid pointless blame games, over the dead bodies of our deceased soldiers. Just sick! #PulwamaTerrorAttack"
Ajay Devgn wrote, "Horrible and disgusting. Anger can't be put into words. #KashmirTerrorAttack."
Abhishek Bachchan also expressed his anger on Twitter, "Such terrible news coming from #Pulwama. Today when people are celebrating love, hate raises it's ugly head too. My thoughts and prayers for the martyrs and their families."
TV actor Rohit Roy wrote, "#PulwamaTerrorAttack #kashmir sad sad day .. and if we don't respond, then it will be an even sadder day for the country.. some countries don't understand the language of peace .. they have to be dealt with in the language they understand and perpetrate.."


Image Source: maker,konitono,magnamags,kurio,Facebook,Pinterest