This morning,
we woke up to the shocking news of Hrithik Roshan's father being diagnosed with throat cancer
. The actor-son himself shared the distressing news on social media by writing, "Asked my dad for a picture this morning. Knew he wouldn't miss gym on surgery day. He is probably the strongest man I know. Got diagnosed with early stage squamous cell carcinoma of the throat a few weeks ago, but he is in full spirits today as he proceeds to battle it. As a family we are fortunate and blessed to have a leader like him. ."
Ever since the news broke out,
all his well-wishers have been sending messages for his speedy recovery
. We got in touch with his close friend, trade analyst Amod Mehra to know more about it. He seemed unaware of these developments as he stated that it was this morning that he came to know of this.
He had met Rakesh Roshan two months back at a wedding function and he seemed extremely fine and in good health. He said that he is equally surprised to know about this. Then, he narrated an incident of his friend, who used to smoke secretly and was told that he has only six months to live, but it's been six years and he's still alive.
We then quizzed him if Rakesh Roshan also smokes, to which he agreed and stated that his wife Pinky Roshan used to tell him to go off cigarettes, but he used to smoke secretly. He prays for his speedy recovery. He was also taken by surprise by his Instagram post.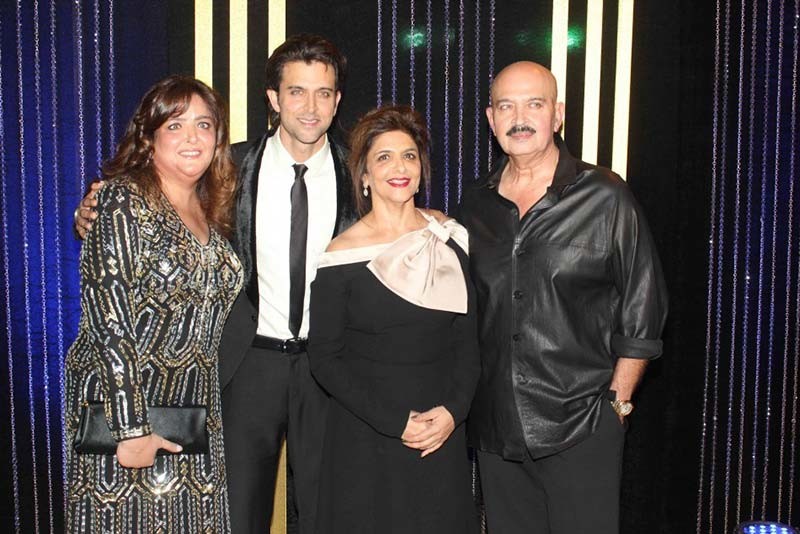 Rakesh Roshan Family
Another friend quotes to SpotboyE.com that during the day he used to smoke one and a half packet. He used to sit in a closed room. The developments are indeed surprising and all that we can hope and wish for is his speedy recovery.
Image Source:- Societymag/instagram/tfk_dil_se_filmismittenbystyle/ibtimesindia