Ranbir Kapoor And Alia Bhatt's Fans Got Them Married In This Photoshopped Picture That Has Taken The Internet By Storm
A recent fan-made picture showing Alia Bhatt and Ranbir Kapoor getting married is going viral on the Internet. The amazing photoshop skills will almost have you fooled for a minute. Take a look!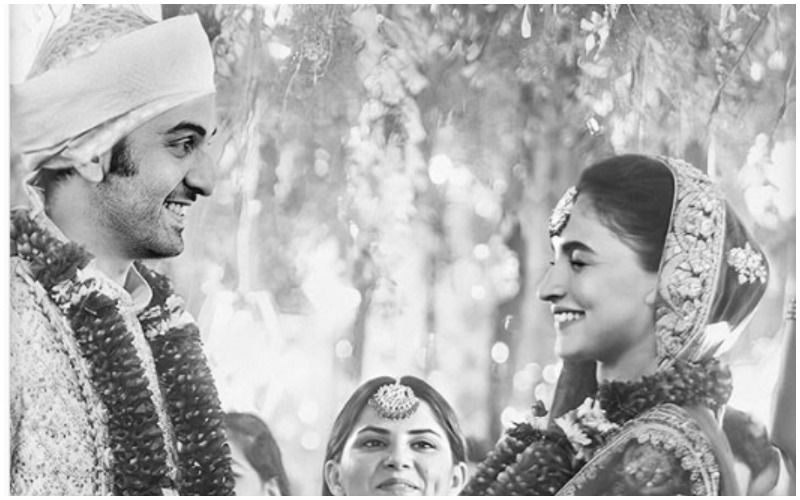 Brahmastra co-stars and lovebirds
Ranbir Kapoor
and
Alia Bhatt
make for one of the most beautiful couples of B-Town and have been making the headlines ever since the rumours of their marriage surfaced and fans have been speculating when the couple will tie the knot. Not only did they make their relationship official, their families also seem to approve of each other. Alia Bhatt was also seen paying a visit to Rishi Kapoor and Neetu Kapoor along with Ranbir in New York. Alia and Neetu Kapoor even posed for a selfie and that only leads us to believe that she shares a great bond with his family.
While the rumors have been doing the rounds of the Internet, a fan already got them married! Yes, you read that right! In a display of outstanding creativity and impeccable photoshop skills, a fan couldn't wait for them to tie the knot and edited a picture which now shows Alia and Ranbir getting married. The result is so realistic, it fooled many people into thinking they actually got married and it became a rage on the Internet yesterday. However, the picture has actually been tweaked and the fan has switched the male model's face who plays Ali's groom in the advertisement to Ranbir's face and the picture now shows Alia getting married to Ranbir. Take a look at both, the photoshopped and the original pictures here:
This is creativity at its peak and the fan edit got us fooled for a minute there! Meanwhile, on the work front, Alia Bhatt and Ranbir Kapoor will both be seen together on screen for the first time in their upcoming film Brahmastra. Alia Bhatt also has other projects lined up and will be seen in Sadak 2, RRR, Takht.
Image Source: Instagram/ranbir_kapoor_my_life_line/whokunalthakur