Ranbir Kapoor's Niece Samara Sahni Shares A Cute Selfie; Netizen Says 'Nazar Na Lage' — See Pic
Ranbir Kapoor's niece and Neetu Kapoor's granddaughter Samara Sahni's latest picture serves cuteness to her thousands of followers! Mother Riddhima Kapoor Sahni also 'likes' the picture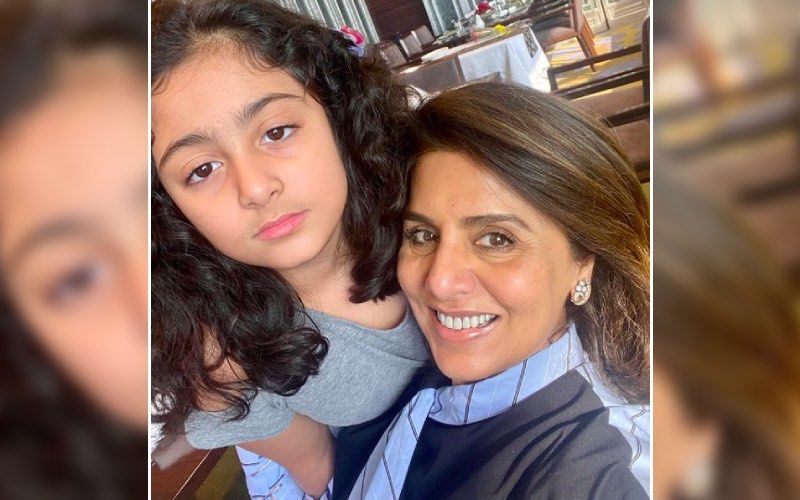 Actor Ranbir Kapoor's niece and Neetu Kapoor's granddaughter Samara Sahni seemed to be the next Instagram sensation. The little girl already has an account of herself which is not a verified one but it is followed by her mother Riddhima Kapoor Sahni, grandmother Neetu Kapoor along with Ranbir's fan page. She has posted like 13 posts and has amassed 4,312k followers on the platform. In the account, we see multiple selfies of herself and some with her grandmom, mom, uncle and of course, her late grandfather Rishi Kapoor too.
Sahni's latest picture serves cuteness to her thousands of followers! Mother Riddhima Kapoor Sahni also has 'liked' the picture. Today, she took to her photo and video sharing app to share a cute photo of herself which is a snap-chat filter photo, captioning "October 2020 vibes". Many have flooded the comment section with 'cute' and 'nice' comments. However, among many, a user wrote, "nazar na lage" while another one said, "Myyyyy gooooooo shundar lager" There was another one who called her a "Fantastic babu". Check out the picture below:
Earlier, Samara had shared a family picture featuring her grandparents Rishi Kapoor- Neetu Kapoor, uncle Ranbir, and her mom Riddhima. She captioned it as, "I don't know when this was but I love my family @neetu54 @riddhimakapoorsahniofficial."

Samara Sahni is the daughter of Riddhima Kapoor Sahni and Bharat Sahni and granddaughter of veterans Neetu Kapoor and Rishi Kapoor. On multiple occasions, Samara's looks have been compared to Neetu's. They look extremely similar to each other. Earlier, Neetu had shared a collage picture of her childhood photo with Samara. Netizens couldn't stop themselves but draw similarities between the two. The resemblances are uncanny.
Image source: Instagram/ samarasahniofficial