Randhir Kapoor Gets Emotional While Performing Aarti At RK Studio's Last Ganesh Chaturthi- Watch Video
A video of an emotional Randhir Kapoor performing puja at RK Studio's last Ganesh Chaturthi is doing the rounds on social media. Check out the video below and also read what Randhir and Rishi Kapoor have to say about the last Ganpati at the studios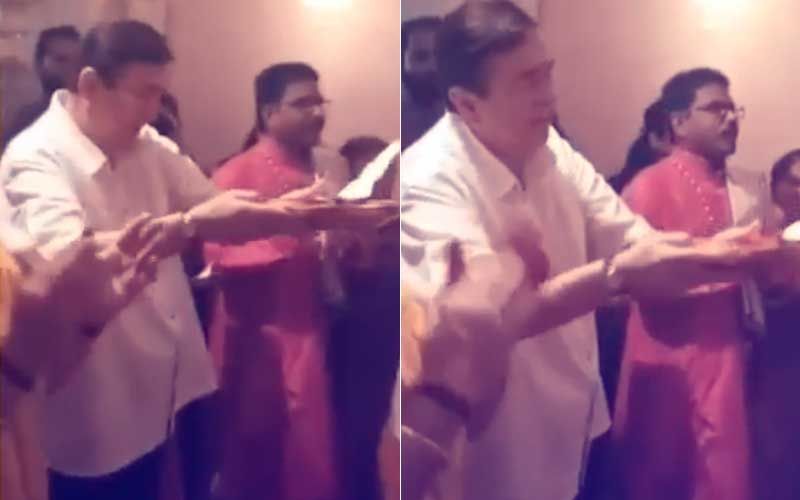 The Kapoors have put the iconic RK Studio on sale, which was built by the legendary Raj Kapoor almost 70 years ago. Randhir Kapoor, Rishi Kapoor were seen celebrating the last Ganesh Chaturthi at the studios. A video of an emotional Randhir is doing the rounds on social media which sees them performing puja.
While talking to Mid-Day, Randhir Kapoor spoke about the last time they will be celebrating Ganesh Utsav at the renowned studios, "As long as the studios are there, the ceremony will exist, Whenever we shift to another location and office premises, the annual Ganeshotsav tradition will continue. We share a divine bonding with Lord Ganesha. We were compelled to sell the studios, as we were incurring huge losses. Especially after the devastating fire that broke out at RK, it was just not economically viable to reconstruct it. Film folk were also reluctant to travel all the way to Chembur."
Rishi Kapoor, who also have a Ganpati Idol at his home couldn't attend the first day, but did the darshan very next morning. While speaking to the same leading tabloid, he said "Unfortunately, owing to some prior commitment, I just could not make it. But the very next day [Friday morning] I went for Ganesh darshan at RK."
Talking about the last celebration at the studio, he told Mumbai Mirror, "Yes, this will be the last celebrations in the studio but everything will be conducted exactly as it has been for the last 70 years. We began the celebrations on Thursday and it will go on till the eleventh day, September 23. No matter where we go, Ganeshji will always be with us. For a while, we did juggle with the idea of renovating the place with state-ofthe-art technology. However, in reality, it isn't always possible for a phoenix to rise from the ashes. We Kapoors are an emotional lot but then… We had to place a stone on our hearts."