Rani Mukerji Slammed By Netizens For Her Opinion On #MeToo; Deepika Padukone And Alia Bhatt Applauded
During a recent round table conversation, actresses- Rani Mukerji, Deepika Padukone, Alia Bhatt, Tabu, Taapsee Pannu, Anushka Sharma expressed their opinion on #MeToo. However, Mardaani actress is being slammed on social media for her viewpoint on the same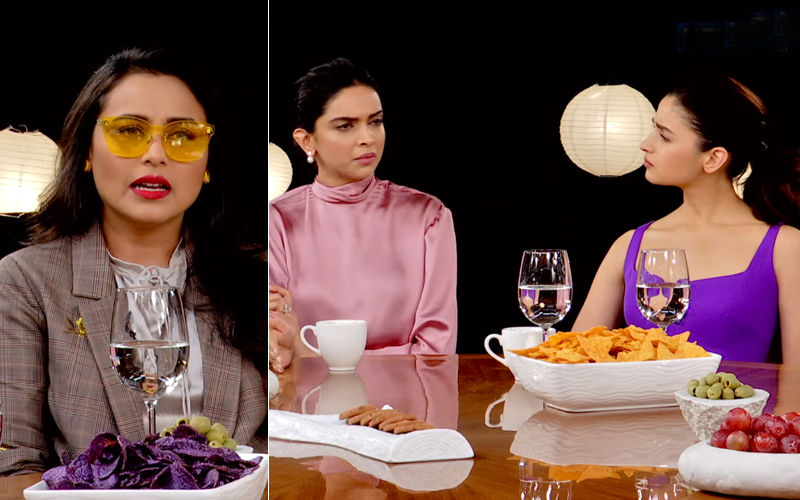 Looks like Rani Mukerji is the latest victim to netizen's anger, thanks to her statement on
#MeToo
controversy. The actress is getting heavily slammed on social media. It all happened during Rajeev Masand's round table coversation which comprised of Deepika Padukone, Alia Bhatt, Tabu, Taapsee Pannu and Anushka Sharma, along with the
Hichki
actress. The actresses were asked about their opinion on
#MeToo
controversy, which was initiated by Tanushree Dutta and later shook the entire industry.
During the chat, the actresses were asked to express their opinion on #MeToo. Rani Mukerji had a different stance on it and said, "I think as a woman you have to be that powerful within yourself, you have to believe that you're so powerful that if you ever come into a situation like that you have the courage to say 'back off.' I think you have to have the courage to be able to protect yourself."
However, Deepika, Alia and Anushka didn't agree with Rani's point of view. Keeping her opinion ahead, Deepika said, "I don't think everyone is constructed with that sort of DNA," Rani further added, "you have to take the responsibility of your own self." Deepika again countered saying, "But why to even bring it to the point where girls should learn self-defence."
Rani concluded saying, "You can't tell mothers how to bring up their children." Soon after the show, social media users didn't take long to slam the Mardaani actress for her opinion.
A user wrote, "Didn't know Rani Mukerji is so obnoxious and regressive and a complete non-listener. Proud of this young crop of actors @AnushkaSharma @deepikapadukone @aliaa08"
While another said, "seeing Rani Mukherjee talk about #MeToo and then comparing it to what Deepika and Anushka said about the cause.. you can clearly see the difference between the two generations"
seeing Rani Mukherjee talk about #MeToo and then comparing it to what Deepika and Anushka said about the cause.. you can clearly see the difference between the two generations

— M U H A M M A D ALI (@alleearain) December 30, 2018
Here are a few more tweets:
Deepika saying not everyone is constructed with the same DNA to have the courage to protect themselves is agreeable

— Namjohn (@knjoonation) December 30, 2018
Young mothers be like "Okay let's find out where do they teach martial arts to toddlers in the city for my 2 year old daughter so that she can defend herself"

— ReeeEEEEEEEEeeeeee (@smaksjruakroa) December 30, 2018
Agreeing to Deepika's viewpoint a user wrote, "Rani is correct, self defence is must to know..but what deepika said is more practical..many a times there are situations which cannot be solved by physical means(martial arts).Such situations need to be tackled with presence of mind..#MeToo is not only about rapes but much more"
Rani is correct,self defence is must to know..but what deepika said is more practical..many a times there are situations which cannot be solved by physicsl means(martial arts).Such situations need to be tackeled with presence of mind..#MeToo is not only about rapes but much more

— 💜Gucci king💜 (@Mansi_7147) December 30, 2018
Ok. So you can't tell hundreds of mothers that they shouldn't bring up misogynistic sons but you want to tell millions of girls out there to compulsorily learn martial arts and defend themselves? This is nothing but victim shaming and blaming.
Shame on you, Rani Mukerji! https://t.co/cfvn74fzPM

— Sumeet Kaur (@Sumeetkaur102) December 30, 2018
Rani Mukerji proved she's Kajol's cousin in the latest #Roundtable episode. So disappointed to see how stupid her views are 🙄

— Farah (@fayrahs) December 30, 2018
I'm cringing my soul out! Rani's take on #Metoo is the worst thing I have ever heard, she's basically saying that the victims should change but not the other way around. Annoying as fuck that she didn't let Anu & Deepika talk... #RaniMukerji pic.twitter.com/du5ieVYhW1

— ♡ (@bollypardesi) December 30, 2018
Rani has no point and no idea!!
Much needs to happen for society clean up and revamping mindset!!

The Day accounatability and punishment starts across the board - polictical, influential and rich spoiled brats get due punishment.. society will improve!!! 👍✌️🙏

— A Khan (@Tennessee_US) December 30, 2018
Ohh god I seriously can't believe she's saying this..I mean ok its very good to learn martial arts but I totally agree what the other ladies were saying..why to get to that stage itself..and at the time of incident girls usually get so scared that many times they can't act wisely

— AYUSHI (@me_ayu_) December 30, 2018
Slamming the actress for saying, girls should learn martial arts to protect themselves, a Twitterati wrote, "Ohh god I seriously can't believe she's saying this..I mean ok its very good to learn martial arts but I totally agree what the other ladies were saying..why to get to that stage itself...and at the time of incident girls usually get so scared that many times they can't act wisely."


Image Source: youtube/CNN-News 18