Bigg Boss 12 Winner Dipika Kakar On Shilpa Shinde Mocking Her Victory And Not Forgiving Romil-Srishty For "Saiyaan-Bhaiya" Comment
Dipika Kakar lifted the Bigg Boss 12 trophy, last night. We caught up with the actress as soon as she came out of the controversial house and spoke about her victory, journey in the house and also about Shilpa Shinde slamming her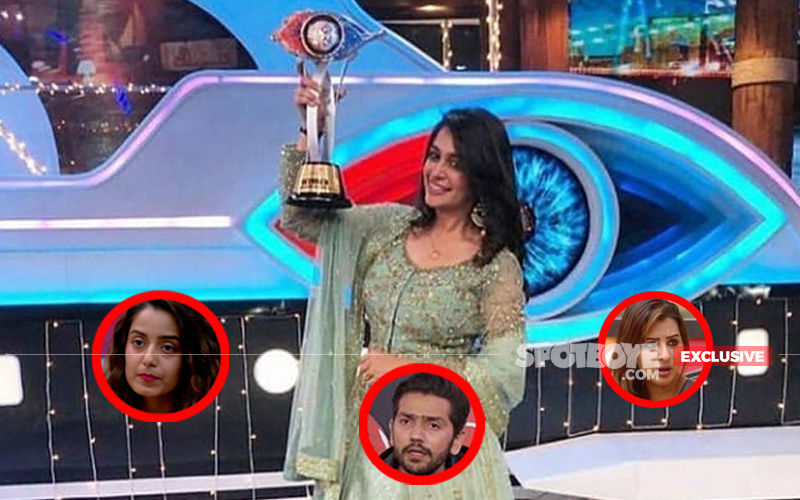 Dipika Kakar is Bigg Boss 12 winner and the actress, along with fans and family, is on cloud 9. While everyone around the Sasural Simar Ka actress is celebrating her win, Bigg Boss 11 winner Shilpa Shinde is not elated with the news. In fact, she has even mocked Dipika's victory on social media.
SpotboyE.com got in touch with Dipika, right after she stepped out of the house. The actress not only reacted to Shilpa's comment but also spoke about her future plans, what she intends to do with the price money, how upset she is about Sreesanth losing the game and also tells us if she has forgiven Romil Chaudhary and Srishty Rode for making the "Saiyaan Bhaiya" comment. Excerpts from the conversation that followed:
Congratulations Dipika! The trophy will surely look beautiful in your house but tell us what are you going to do with the price money?
I am going to buy a house for my Ammi (Shoaib's mother). House-hunting is the first thing on my agenda.
Are you upset about Sreesanth losing the game?
Of course, I am a little upset that he didn't win the show. But it is a competition. And I am grateful to each and everyone who voted for me and made me the winner of Bigg Boss 12. I am very happy and proud that Sreesanth and I were the top 2 contestants. So the moment that was announced, we knew that someone between the two of us will win.
Sreesanth recently said that you will win the show because you are Colors' face. You think his statement would have an affect people's opinion about your victory?
Even if he didn't say that, people would still think that I have won because I am channel's favourite as I have done a successful show Sasural Simar Ka with them. But I want to concentrate on the people who have voted for me to win the game rather than those who are criticising me. But I want to thank them as well, because you only shine brighter when someone criticizes you.
Ex-Bigg Boss winner Shilpa Shinde is not happy with your victory. Any comments?
I have no clue why she is upset with me. I did get to know about this a few minutes back while talking to people. Maybe she has her own reasons. She may have not liked my journey. It's her perspective and view.
Was being in the kitchen your strategy to win like Shilpa Shinde?
Not at all. In my day to day life also I love to cook food and feed others. That's what I did inside the house too. And those who feel that it was my strategy to win, I want to tell them come in the kitchen and cook three time meal for 15 people and you will come to know. You can show off for a week or 2 but you can't do it for long if you are not doing it from your heart. But when people inside the house also made acquisitions on me and took me off the kitchen duty, I cleaned toilets and garden area for 2 weeks too. I am very comfortable with household work in real life- it wasn't my strategy to be in the game for sure.

You were disappointed with Megha Dhade taking over the kitchen?
It wasn't the case. See if two people work in same kitchen, there is often a clash. But Megha and I were mature enough to divide the work- for e.g. I started making breakfast and she used to make lunch and dinner. Yes, at some point we exaggerated the matter but there was nothing between us.
What did Salman Khan tell you after you were announced as the winner?
Genuinely, I didn't hear what he said. Because after taking the trophy in my hand I got blank. I actually don't even remember how I reacted after my name was announced. I will have to see the footage to see my own reaction. The only moment I can recollect was that I saw Shoaib and Saba sitting in the audience, teary-eyed.
Romil Chaudhary and Srishty Rode's "Saiyaan Bhaiya" comment made you and Shoiab highly upset. Have you forgiven them now?
It's not about forgiving. I don't think it was good. I feel extremely hurt when people come and discuss my personal life. I have to just let it go. But it's not that I have forgotten it.
This year viewers witnessed a lot of fights was it being done by you guys for footage?
When I entered the house, I had clearly said that I will not indulge in any fight unnecessarily but if someone will instigate me, then he or she will get it back. And I followed that- whoever argued with me, I argued back. I expressed my opinion also whenever I felt it's required.
Parting shot...
Thank you so much to all the readers of SpotboyE.com who helped me to win the trophy.
Image Source:Instagram/riya_2453,picbon,MSN,india.com