If there's an award for the best husband in the world, it should definitely go to Ranveer Singh. We are serious! He is so in love with his wife, actress Deepika Padukone and always speaks highly of her. And not to forget his love filled comments on her Instagram posts. Ranveer on Saturday took this PDA game a notch higher when he "fixed" a caption for Deepika.
It so happened that Deepika, on Saturday, dropped a video of herself from a photoshoot, and she captioned it, "I am an actor by profession, but I approach my life like an athlete. It's just second nature to me! #collaboration."
Ranveer had a quick fix for the caption of his wife's latest social media post. He commented, "I am a hottie by profession, but I approach my life like a cutie. It's just second nature to me! *fixed it*."
Deepika could not stop admiring her husband and reciprocated the love. Responding to Ranveer's comment, she said, "Best Husband in the World…Hands Down! @ranveersingh."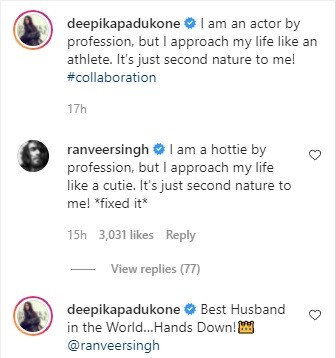 Aaah! What can we say? We are in love with their love!
Earlier this week, Deepika shared a glimpse from the same photoshoot and wrote, "Being an athlete and playing sport has played a tremendous role in shaping my personality and helping me become the person I am today. It has taught me values that no other life experience could have. Today, fitness, both physical and emotional, are an integral part of my lifestyle."
Ranveer had then supported his wife by dropping a few clapping hand emojis in the comment section.
Deepika later revealed her new endorsement deal and shared that she had been secretly planning her wedding for some time - when it happened three years ago. Deepika's comment read, "When I was planning my wedding about three years ago, we kept it a secret for a while. Even that wasn't as difficult as keeping this announcement a secret! Now, I feel relieved that this news is finally out!"
Deepika and Ranveer tied the knot in a private ceremony in Italy on November 14, 2018. It was only attended by immediate family members and a few friends. The couple later hosted multiple wedding receptions in India.
Image Source: Instagram/ranveersingh