Ranveer Singh Tells Karan Johar Post Section 377 Abolishment: I'll Be Your Ras Malai!
It's in jest alright. Here, we bring you a video of Ranveer Singh who is seen doing masti with his dear friend Karan Johar after the verdict of section 377 and tells him he will be his Ras Malai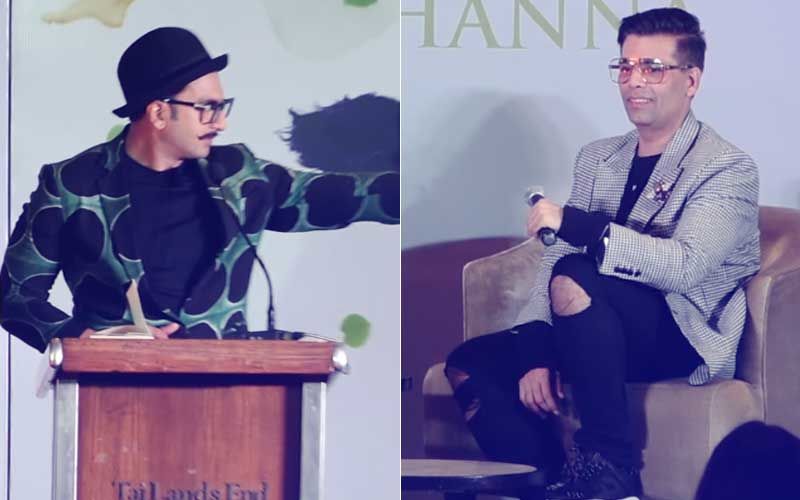 Ranveer Singh is at it yet again and this time he has targeted his Takht director, Karan Johar. Karan, Ranveer, Akshay Kumar and Sonam Kapoor who had graced the book launch of Twinkle Khanna, a day after Supreme Court has scrapped section 377. During the book launch Ranveer first applauded the court's decision and also didn't hold back joking with the filmmaker.
It all happened when, the Padmaavat star took to the stage and started his speech, saying, "A thundering round of applause for the verdict." Then continued pointing toward KJo he said, "You can have as much desert as you want Mister." Karan replied to his statement saying, "Why has it become about me?" Then taking the advantage of the situation, Singh continued saying, "We are doing Takht together, and I'll be your Ras Malai." Watch the video below:
On the day of the verdict Karan Johar had taken it to social media and written, "Historical judgment!!!! So proud today! Decriminalising homosexuality and abolishing #Section377 is a huge thumbs up for humanity and equal rights! The country gets its oxygen back!"
On the personal front, Ranveer Singh is set to tie the knot with dimpled beauty Deepika Padukone in November. A few days , we brought you the video of DP where she had refused to talk about her impending wedding. However, during a recent event, which she recently attended, she brushed off the question and said, "I would certainly not answer that question. It's completely an insensitive question to ask at event like this."