Popular playback singer KK, on Tuesday, died following a cardiac arrest after a performance in Kolkata. He was 53. His sudden death sent shockwaves across the entertainment and music industry and left everyone heartbroken. Many celebrities mourned his tragic death on social media and amongst them was singer-rapper Badshah. However, he received hate messages after he posted a tribute for KK on his Instagram account. The singer shared a few stories about the hate message he received from an Insta user.
While paying his last respects, Badshah dropped a monochrome photo of KK and wrote, "Why?" with a broken heart emoji. A few hours later, he shared a screenshot of the message he received on Instagram. The message read, "tu kab marega (when will you die)" followed by a cuss word. Reacting to it, Badshah wrote, "Just to give you an idea what sort of hate we face on an everyday basis." In his next follow-up post, the rapper added, "What you see is an illusion, what you hear is a lie, some dying to meet you, some pray for you to die." He did not reveal the name and identity of the Instagram user who sent him the hate message. ALSO READ:
Badshah Reacts To Viral 'How To Make a 'Badshah Song' in 2 Minutes' Video, Rapper And Internet Are in Splits!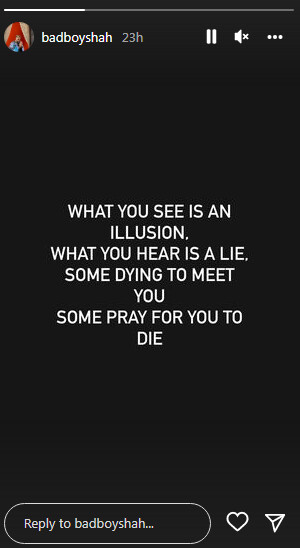 In an early interview with News18.com, the rapper revealed he was diagnosed with clinical depression and anxiety disorder. He also suffered from sleep apnea. He was quoted saying, "You never know who is battling from (a mental health issue) because it doesn't show. I think it is extremely important to take care of your mental health. I cannot emphasize enough that you really need to take care of your mental health."

Meanwhile, Badshah, whose real name is Aditya Prateek Singh Sisodia, has many chartbusters and hit party numbers such as 'Jugnu', 'Mercy', 'Paagal', 'Genda Phool', 'Dj Waley Babu', 'Proper Patola', 'Kala Chashma' to his credit. He was recently seen as a judge on the reality show 'India's Got Talent 9' which concluded last month.