Rehnaa Hai Tere Dil Mein Turns 18; Maddy R Madhavan And Reena Dia Mirza Can't Keep Calm
Keeping up with the title, this film will stay in our hearts for eternity. R Madhavan and Dia Mirza's Rehnaa Hai Tere Dil Mein that released 18 years ago is still the best romantic film we have seen so far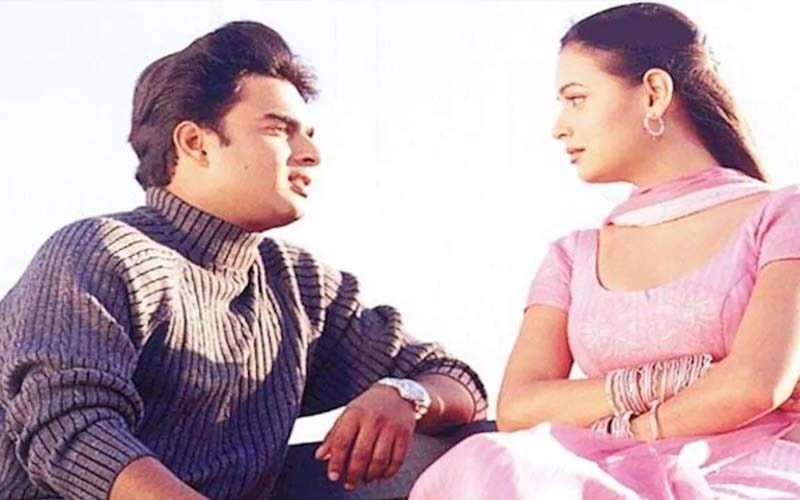 'Dil ko tumse pyaar hua, pehli baar hua, Tumse pyaar hua, Main bhi aashiq yaar hua, pehli baar hua,Tumse pyaar hua,' the most romantic song ever! This film brings back so many memories and sweet moments that every lover can associate with. R Madhavan and Dia Mirza's first film ever Rehnaa Hai Tere Dil Mein released 18 years ago on this day, yet it is the best romantic drama we have seen to date. Both the stars took to social media to celebrate the film.
R Madhavan who essayed the role of Maddy made his Hindi feature film debut as a lead hero with Rehnaa Hai Tere Dil Mein. Dia Mirza too entered Bollywood this film and their chemistry instantly struck with the masses. The songs, the plot and the romance still are afresh in the minds of their fans. Saif Ali Khan too played a pivotal role in this film.
As this film celebrates 18 years of its release, Dia Mirza took to Twitter to write, "Rehna hai tere dil mein - forever #18YearsOfRHTDM Share your best moments connected to this love story? @ActorMadhavan @poojafilms @jackkybhagnani #SaifAliKhan #ZaraZara #DilkoTumsePyaarHua." Maddy soon took a notice of this tweet and wrote, "It seems to me like yesterday... especially since you look the same my lady @deespeak." Jackky Bhagnani too had a reaction.
Oh, we so want to go back to the RHTDM days. This film was a superhit amidst all the lovers, and one still relates to the madness Maddy had for Reena. We love you both!
Image Source: Instagram/tabthief.blogspot.com