Actress Rhea Chakraborty's Instagram posts are packed with spiritual vibes and positive messages. Taking to her Instagram account, she posted a picture of her meditating in a serene-looking unknown destination. With a smile on her face, a peaceful vibe, the Chehre actress termed it as the butterfly effect. She captioned it as, "THE BUTTERFLY EFFECT" Besides this she also posted a picture of a Buddha statue on INSTA Stories with the text, "NAM MYOHO RENGEY KYO" This post hints at how the actress is planning to spend her weekend.
Seen in a white kurta paired with matching bottoms, she let her hair loose in a meditating posture, placing her hands on her knees. One can see lush green trees, mountains and probably a huge lake in the background. Seems like the actress is stationed at some wellness retreat for this weekend and this picture is quite a soul soothing. Her fans were delighted to see her and dropped some sweet comments, praising Rhea for spreading positivity through her post.
Take a look at Rhea Chakraborty's Instagram post and INSTA Stories below-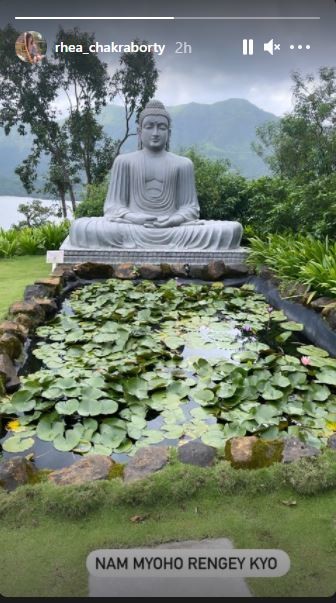 The actress had a turbulent phase in her life, after she was accused and put behind bars after the death of her alleged boyfriend, Sushant Singh Rajput.

Image Source: Instagram/rhea_chakraborty