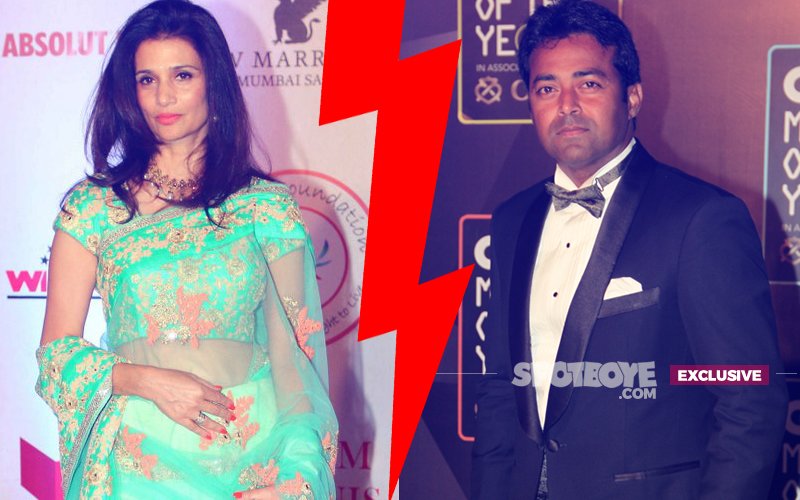 Rhea Pillai-Leander fight in Family Court is getting murkier by the day. In a recent turn of events, Rhea has appealed (via a letter) to National Commission for Women to provide her with someone who will witness the Domestic Violence proceedings in Court; she has alleged that her estranged husband's lawyers are passing snide remarks against her during the proceedings
The letter, in verbatim, reads as follows:
To,
National Commission for Women,
Plot-21, Jasola Institutional Area,
New Delhi- 110025
Date 31st October, 2017
Madam
Ref:Request for appointment of an observer for the on-going Domestic Violence proceedings.
I, Ms. Rhea LailaPillai, aged 52 years, residing at The Jacker's 6th Floor, 113, Carter Road, Bandra (West), Mumbai 400050 , do hereby state as under:
1. I say that I filed an application under Section 12 of the Protection of Women from Domestic Violence Act, 2005 in 2014. On 18th July, 2017 the Hon'ble Supreme Court passed an order stating that, "…. Hearing of the matter may be expedited and as far as possible the proceedings be completed within a period of six months from today". In view thereof, the trial court expedited the trial and my cross- examination commenced on 5 October, 2017. Thereafter, the cross- examination continued on 7th, 10th, 23rd, 24th, 25th, 26th, 27th, and 28th October.
2. The cross-examination is being conducted by Advocate Aabad Ponda alongwith Advocate Ishwar Nankani appearing on behalf of the Respondents (namely Mr. Leander Paes and Mr. Vece Paes) in the said Application. I state that Mr. Aabad Ponda has on several occasions during the cross- examination humiliated and insulted me with his condescending and sexist remarks.
3. I have been cooperating with the Hon'ble Court and have complied with all the requirements and presented myself on time on every date and on oath replied to all questions asked and provided all documents sought. However, beyond the questions Mr. Ponda has on several occasions subjected me to humiliation and insult by his unbecoming remarks in a court room packed with people in the presence of media.
4. Mr. Ponda has been downright disrespectful of my identity as a woman and has in open court said to me in a demeaning sniggering manner; "I don't know what to call a woman like you ….". All along he had referred to me as 'Rhea Pillai' suddenly he sniggered and said, " I don't know what surname to give to you. I'm confused …." and he laughed at me. I would like to state that I felt very insulted just because a man doesn't have to go through a name change is it a matter for a woman to be mocked at; because she got divorced and changed her name. If it was a man this would never be said or used as a taunt or a reason to humiliate. Mr. Ponda's remarks have been highly offensive and misogynistic in nature.
5. On another occasion, when my lawyer requested for a time out informing that I had not been well and was even hospitalized the previous week for issues relating to low blood pressure; Mr. Ponda scoffed and ridiculed my medical issue and stated that "the supposed bp can hold up for 58 minutes " and then he mockingly shouted and said, "this bp can hold up for another 2-3 minutes" in a very derogatory and objectionable tone. I would like to state here that I have been suffering of low blood pressure and was even hospitalized on 19th October, 2017 due to it. My blood pressure had dropped to 88/45 and I was hospitalized and administered IV to stabilize my bp. On 23rd October 2017 when my cross- examination commence post the Diwali break, my lawyer had informed the Hon'ble Court about the same but since I did not want to delay the cross- examination, I agreed to appear throughout the week for the cross-examination.
6. Mr. Ponda has been repeatedly shouting and interrupting nearly every answer I give and has shouted, " I won't allow her to answer like this…I've had enough of her long answers."
7. I say that standing in the witness box with a court packed with people I have felt deeply humiliated by the way Mr. Ponda has shouted at me and has bullied me throughout the cross- examination. I have been unceremoniously bullied by him and I had to struggle to even express myself in the manner i wanted to.The moment i gave an answer that displeased him he would shout and interrupt. Each time he would look exasperated , shake his head, shout, mock and make snide remarks.
8. He has on several occasions stated loudly in an overbearing manner, " I am paid to do this"; and has subjected me to grave humiliation during the cross-examination. In fact people from the court room who have witnessed this have walked upto me and said why are they ill-treating you and intimidating you like this.
9. I say that Mr. Ponda is accompanied by Advocate Ishwar Nankani and they both keep making snide remarks and keep jeering at me. Even my genuine medical issue has been ridiculed at in open court to an extent that I felt embarrassed to even voice my concern regarding my medical condition.
In the circumstances, I request you to kindly look into this matter and appoint a representative of the Commission to observe the trial and to ensure that I am treated with dignity and respect during the course of the trial and am not subjected to further humiliation and harassment by the advocates of the respondents in my process to secure justice for myself and my minor child.
Yours sincerely,
(Ms. Rhea LailaPillai)
Cc:
1. Maharashtra State Commission for Women
Gruha Nirman Bhavan
Mhada Bldg.,
Kalanagar Bandra (E)
Mumbai- 400 051
Image Source: Manav Manglani