Aamir Khan has been having a tough time ever since he spoke his mind out on the rising intolerance in the country. The actor said that worried over the "growing disquiet" in India, his wife Kiran Rao asked Aamir if they should move out of India.
This statement met with strong resistance from various quarters - Hindu Sena activists staged a protest outside his house, a lawyer filed sedition charges against him, Shiv Sena leader Ramdas Kadam stated that he "can go to Pakistan" and several Bollywood actors also criticised him for his remark. Not just that, users uninstalled Snapdeal app from their phones since Aamir was its brand ambassador (Users uninstall Snapdeal app, want Aamir out, November 24).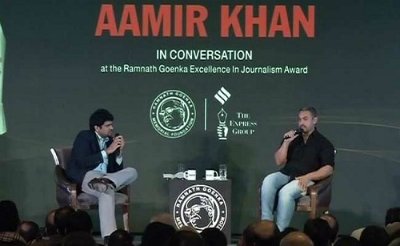 The severe backlash threw Aamir off-balance. And in such times of distress, he reached out to Salman Khan for help.
The actor, we hear, made the first phone call to the Bajrangi Bhaijaan star in his hour of crisis. Salman, who was busy with Sultan's shoot in Karjat at the time, calmed Aamir's nerves.
Says a source, "Aamir hadn't expected such strong reaction, especially on social media. They had a long conversation. Salman advised him to lie low and not overreact to the situation. In fact, it was Sallu who told him to clear his stance and issue a statement."
And that's exactly what the PK actor did (Aamir Khan: I stand by everything I said about intolerance, November 25).
Aamir and Salman were not seeing eye-to-eye of late - their bone of contention being that their respective films, Dangal and Sultan, were both wrestling dramas and shared more than a few similarities. The two even had a spat at Salman's residence a few months ago (Salman-Aamir's ugly showdown, October 3).
However, it is clear that their differences notwithstanding, Aamir trusts Salman and hence, went to him in his hour of need.
Come to think of it, the Sultan actor has often played Agony Uncle to many in the industry. Not too long ago, when Hrithik Roshan parted ways with his then-wife Sussanne Khan, he too found Salman's shoulder to cry on. Never mind that the two weren't exactly the best of friends until then (in fact, Sallu had even poked fun at Hrithik's film Guzaarish in 2010).
Image Source: taleem & mbc