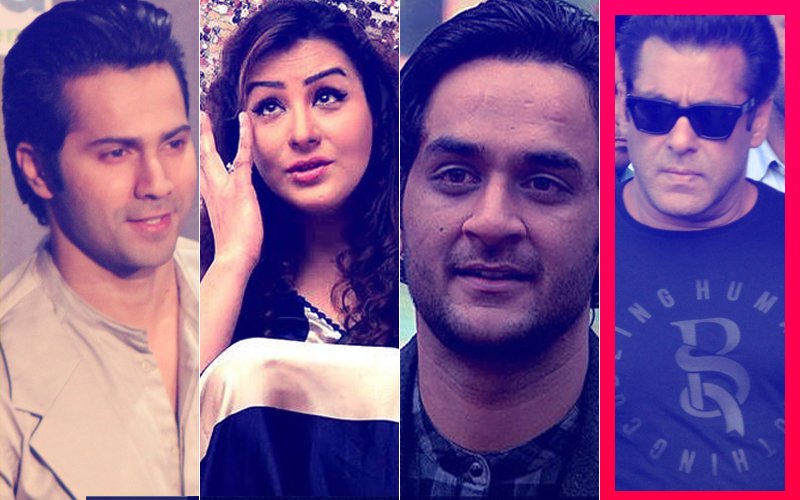 A few minutes back, we reported that decision on Salman Khan's bail plea has been reserved and will be out tomorrow, which means that the actor will spend one more night in Jodhpur Central Jail.
The industry is saddened by the decision. A few celebrities took to social media to express their emotions about Khan's verdict in 1998 Blackbuck poaching case. While we told you what Jaya Bachchan had to say about Salman, last night, now we bring you what other actors like Varun Dhawan, Maniesh Paul, Shilpa Shinde and a few more have to say about Salman's 5-year jail term.
Varun Dhawan too took to social media tweeted about the actor.
His tweet read, "I know for a fact that Salman bhai and his family have the utmost respect and faith in our judiciary system. @BeingSalmanKhan is one of the strongest and most genuine people I know and I'm sure he will come out of this stronger."
Let's take a look at other celebs' reactions
Vikas Gupta tweeted, "Just jotted down what I really feel about @BeingSalmanKhan and this current scenario. Backlash is expected but 😊 You stand for what you feel is right ."
Maniesh Paul tweeted, "Tough times dont last...tough people do...waiting for tiger to be back @BeingSalmanKhan"
Shama Sikander tweeted, "Today has been a very mixed emotion day with @BeingSalmanKhan news strange u don't meet someone ever n still u can feel so much pain for tht person ! I'm kinda sad n I wish him n the whole family lot of strength in this tough time...#allahnigehban🙏🏻"
Shilpa Shinde tweeted, "Punishing a good human being is not acceptable. Animal poaching is ever increasing, jungles are cut in the name of urban development, isn't it leading to wildlife killing, who will be punished for that?#SalmanKhan@BeingSalmanKhan#BlackBuckPoachingCase"
Kabir Bedi tweeted, "Feeling very sad that Salman Khan has been sentenced to 5 years in prison for allegedly shooting a black buck. 5 years! The length of sentence seems excessive and must be appealed. @BeingSalmanKhan has all my sympathy and support. #WeLoveYouSalmanKhan"
Rahul Dev, "I respect the law but must confess the verdict saddens me. My heart goes out to @BeingSalmanKhan & his family members. 5 yrs is too harsh! I hope they review the decision, in lieu of his great humanitarian work & grant him bail tom 🙏 #WeSupportSalmanKhan #BlackbuckPoachingCase"