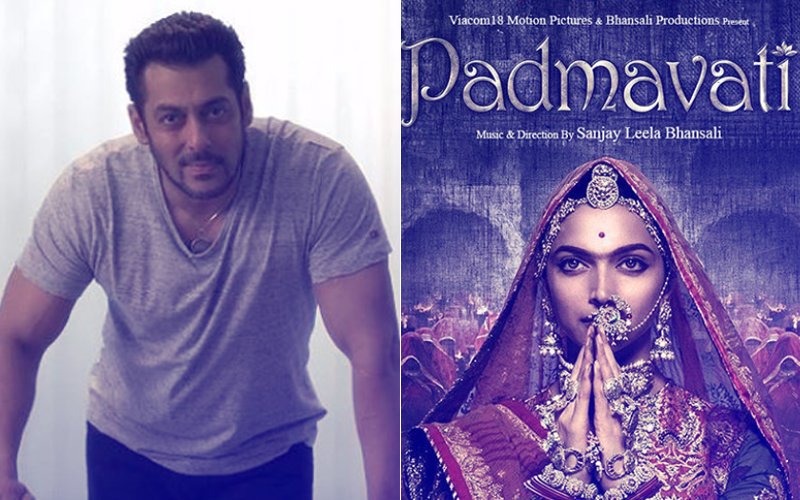 Your browser does not support the video tag.
Salman Khan, who worked last with Sanjay Leela Bhansali in Hum Dil De Chuke Sanam (1999), has expressed his views on the director's magnum opus Padmavati.

In a recent interview at a summit, the superstar commented on the controversies surrounding the historical drama where he said, "No one gains from a controversy around a film, and only leads to loss. The film gets delayed, people panic and refrain from going to theatres. In fact, theatre owners also get scared that the screening of the film might lead to protest outside their cinema halls."

"I don't think it's fair to hurt anyone's sentiments or to comment on a film without seeing it first," added Salman,.

He was speaking at a session of the Hindustan Times Leadership Summit.

Talking further about the issue around Padmavati, Salman said: "In this case, there are so many developments, we don't know what is right and what is wrong. Central Board for Film Certification (CBFC) and Supreme Court need to take a decision. We will respect the decision that CBFC takes as it is a government body."

The whole nation knows that Padmavati has fallen prey to innumerous controversies since its inception. Just yesterday, SLB met with the Parliamentary panel to discuss about the film where some panel members expressed their opposition to the trailer and said it should be banned along with the film. However, Prasoon Joshi told the panel that he had not seen the film as yet. When some members asked how the film had reached the UK when it had not been approved in India, the CBFC chief said it was an independent process. "How could you assume that the movie could be released on December 1 when you applied to the CBFC on November 11. As per the cinematography act, the CBFC may take 68 days before certifying a movie," the parliamentary panel asked Sanjay Leela Bhansali.

According to PTI, "The committee also told Sanjay Leela Bhansali that his movies tend to target communities which produced tension between them.They asked if the creating a controversy was a new trend to sell the movie?"

A few days back this controversy took a deadly turn when a Jaipur youth was found hanging at the Nahargarh Fort with a threat note.

As of last week, the Indian Films and TV Directors' Association (IFTDA), along with 19 other bodies of the film and television industry from across the country stopped shooting for 15 minutes as a mark of protecting the right to freedom of expression of those in the creative field.

While the entire industry is standing with SLB in this fight for Padmavati, the film's future still looks uncertain. For now, the release date has been pushed to 2018 as SpotboyE.com told you exclusively that the Deepika-Ranveer-Shahid starrer may hit the screens on February 14, 2018.


Image Source: Instagram/salmankhan, Padmavati